Having reviewed the lot of 2013 Panasonic plasma TV series ranging from the ST60 to the ZT65, it's time to turn our focus to the Japanese manufacturer's LED LCD lineup. Today we're looking at the Panasonic TX-L55WT65B which is the company's flagship LED television for this year, featuring edge LED backlighting, passive 3D, dual Freeview and Freesat HD tuners, as well as its Smart Viera internet-connected platform which has been revamped with a new "My Home Screen" interface.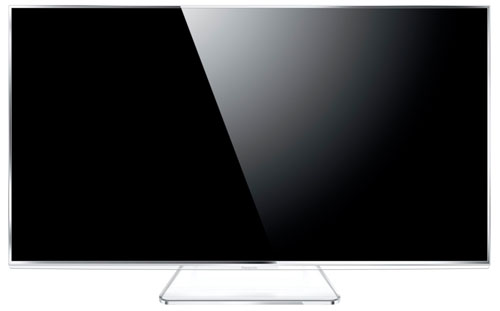 We've tested the step-down Viera ET60 and DT65 series, and found both to feature Panasonic's first-rate video processing and advanced calibration controls, with the only real weakness being their less-than-impressive black level which is unavoidable given the type of LCD panel (IPS) used. As we climb up the specifications (and price) ladder, will the top-end WT65 (marketed as WT60 elsewhere in the world) offer improved picture quality? We're about to find out.
Note: The specific model we reviewed was the TX-L55WT65B which is the 55-inch, British 3-pin-plug version with dual Freeview and Freesat HD tuners. Although we haven't seen the smaller 47-inch Panasonic TX-L47WT65B, we expect no drastic difference in picture performance since both share similar features within the Viera WT65 series.
Design
Seeking to underline the TX-L55WT65's flagship status, Panasonic has implemented several distinctive stylistic cues you probably won't see on many other TVs. First to grab our attention is the transparent toboggan-shaped stand that cannot be swivelled. It creates a somewhat convincing "suspended in air" effect, but lays bare any cable clutter running down from behind the telly.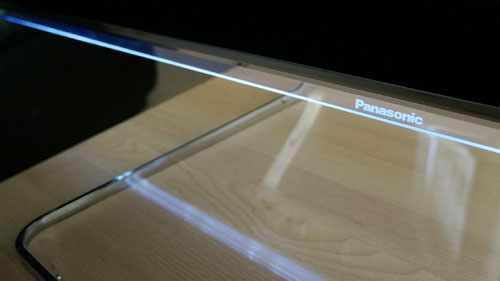 The glistening silver bezel is impressively slim especially by Panasonic's standards. Like the step-down Viera E6 and DT65 series, a thin strip of transparent perspex hangs from the bottom of the panel, with the only difference on the 55WT65 being that its edges are illuminated in a light shade of blue. Though novel, thankfully this can be switched off for critical viewing in a dimly-lit environment.
Stepping round the back, we're greeted by a couple more striking aesthetic elements. The rear of the Smart TV is covered in a high-quality, pearlescent white paint, immediately setting the 55in WT65 apart from most other flat-screen televisions. Also, the chassis barely carries any bulk at all – the company has truly embraced the "Size Zero" ethos made possible by edge LED backlight technology.
The LCD screen's anti-reflective filter is very effective at rejecting ambient light – certainly one of the best we've seen in 2013. Build quality is first-rate, as you can expect from Panasonic.
Connections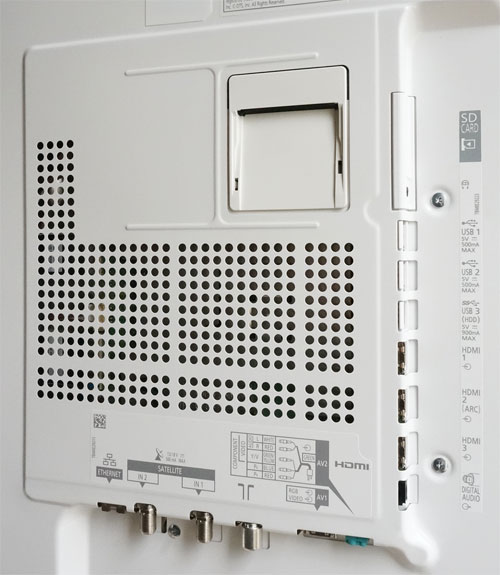 3x HDMI, 3x USB, component, SCART, twin tuners, LAN, SD card, CI slot & audio outs
Calibration
Greyscale
Wasting no time, we engaged [True Cinema] mode on the TX-L55WT65B, knowing from years of testing Panasonic flat-panel HDTVs that this is most likely to be the most accurate picture preset out of the box. Here's how it measured: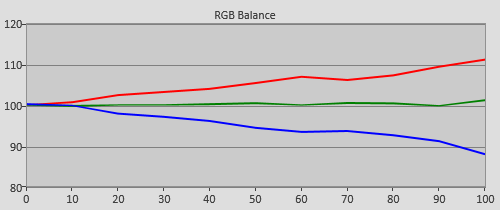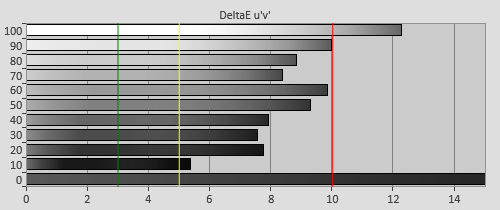 Pre-calibration RGB tracking and delta errors (dEs)
The overdominant red and underfilled blue channels grew increasingly divergent towards higher luminance levels, causing images to look warmer and warmer as they became brighter. Since the Panasonic WT is equipped with not only 2-point but also 10-point [White Balance] controls in the [Custom] and [Professional] picture modes (the latter can be unlocked by enabling [Professional Mode (isfCCC)] in the [Setup] submenu), we gleefully went to work to rectify this.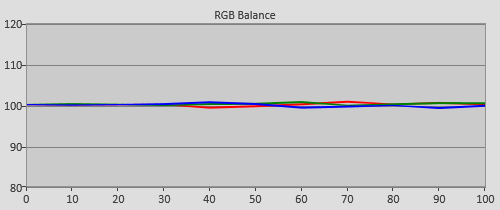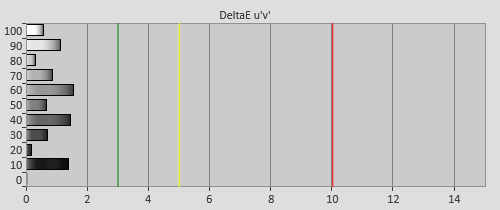 Post-calibration RGB tracking and dEs in [Professional1] mode
We obtained a fantastic result by using mostly the two-point [White Balance] controls, with only a touch-up required at 10% stimulus. It's tempting to take full advantage of the supplied 10p WB controls to chase perfection at each interval, but as long as delta error (dE) is below 3 – commonly accepted as the human perceptible limit – we'd leave it be, since excessive adjustment of ten-point white balance (or 10-point gamma for that matter) can lead to unwanted posterization.
Gamma
In its out-of-the-box [True Cinema] mode, the Panasonic TXL55WT65B's overall gamma was around 2.38. While this value is close to the reference EOTF (electro-optical transfer function) of 2.4 stipulated by ITU for flat-screen HD displays used in dark-room mastering, it's probably overambitious for the Viera WT65/WT60 whose native black level measured north of 0.15 cd/m2.
| | |
| --- | --- |
| | |
| Pre-calibration gamma tracking (avg 2.38) | Post-calibration gamma tracking (avg 2.22) |
After calibrating greyscale, gamma tracked closer to 2.22 which is more suitable for an HDTV with compressed dynamic range like the TX-L55WT65 to avoid crushing shadow detail. Gamma tracking was not quite linear across the entire luminance range, but again we refrained from tinkering with the 10-point [Gamma] controls for fear of introducing posterization/banding in real-world content.
Colour
With the removal of red tint from the picture following greyscale calibration, the primary and secondary colour points by and large fell into place. Using Panasonic's HSL-based (hue, saturation, luminance) colour management system (CMS), we gently tweaked the colours, placing top priority on nailing colour decoding/luminance/brightness, and then seeking to minimise errors across all the saturation tracking points.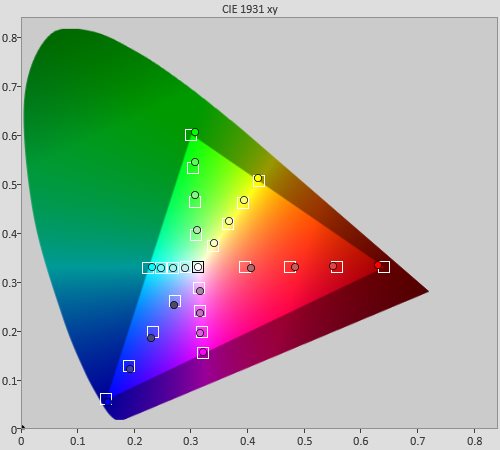 Post-calibration colour saturation tracking
We achieved very good results, though red primary was slightly undersaturated at 100% (Panasonic's high-end VT and ZT plasmas do better in this regard). Colour decoding was spot-on (which it should be, since we prioritised it):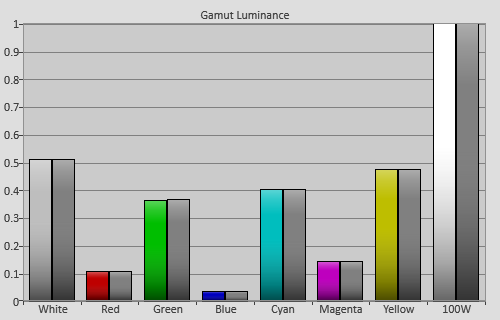 Post-calibration colour luminance (coloured bars=targets; grey bars=measured values)
Benchmark Test Results
| | |
| --- | --- |
| Dead pixels | None |
| Screen uniformity | Noticeable light pooling & "dirty screen" effect |
| Overscanning on HDMI | 0% with [16:9 Overscan] set to "Off" |
| Blacker than black | Passed |
| Calibrated black level (black screen) | LEDs dim down/ shut off |
| Calibrated black level (ANSI checkerboard) | 0.152 cd/m2 |
| Black level retention | Auto-dimming with full black screen |
| Primary chromaticity | Undersaturated red primary |
| Scaling | Excellent |
| Video mode deinterlacing | Effective jaggies reduction |
| Film mode deinterlacing | Passed 2:2/576i & 3:2/480i if [Film Cadence Mode] on |
| Viewing angle | Very good for an LCD; washout occurs after 60° off-axis |
| Motion resolution | 1080 with [Intelligent Frame Creation] on; 300 off |
| Digital noise reduction | Defeatable |
| Sharpness | Defeatable edge enhancement |
| Luma/Chroma bandwidth (2D Blu-ray) | Full luma; full chroma with [1080p Pixel Direct] on |
| 1080p/24 capability | No judder in 2D or 3D |
| Input lag (high-speed camera) | 31ms compared to CRT TV |
| Leo Bodnar input lag tester | 37.5ms with [Game Mode] engaged |
| Full 4:4:4 reproduction (PC) | Yes, with [1080p Pixel Direct] engaged |
| 3D crosstalk level (Spears & Munsil) | 0.1% |
Power Consumption
| | |
| --- | --- |
| Default [Normal] mode | 75 watts* |
| Calibrated [Professional1] mode | 84 watts |
| Standby | <1 watt |
Note: Out of the box, [Ambient Sensor] is enabled, which explains why energy usage was lower before calibration than after.
Picture Quality
The native black-level performance of the Panasonic TX-L55WT65B was mediocre for a flagship LED television, which unfortunately is a known shortcoming of the IPS LCD panel used. In brighter scenes and during daytime this is rarely a problem, since there are sufficiently bright elements in our field of vision to distract our brain from the darker bits. It's when the WT65 is asked to display a predominantly dark sequence in a dimly-lit environment that the TV stumbles: what should look black took on a greyish haze instead, robbing the entire picture of dynamism.
The subpar backlight consistency on our review unit didn't help either. Feeding the Viera 55WT65 with a full-field video black signal, we observed several patches of light pooling scattered on screen, which were particularly noticeable off-axis or in a dark room. Running full-field 10IRE to 40IRE test patterns revealed some dirty screen effect, which we really think is unavoidable on edge-lit LED LCD TVs due to how the whole screen needs to be illuminated by a limited number of side-mounted LEDs. Bizarrely, on our TXL55WT65B sample a handful of such LED bulbs shone brighter than the rest under certain conditions, further aggravating the backlight unevenness.
For these reasons, we decided to set [Adaptive Backlight Control] to "Mid" on the Panasonic WT to help it out in the contrast and uniformity departments. As is the case with most edge LED televisions, this amounts to pseudo-local dimming at a video processing level with dynamic contrast stretching, as opposed to true, physical local dimming on full-array variant where clusters of LEDs can be switched on and off independently of each other.
Although we saw some clipping of shadow detail and bright highlights, we feel the deeper blacks brought about by [Adaptive Backlight Control] "Mid" was worth the tradeoff. Contrast – underpinned by black level – is the most important attribute of image quality, and the backlight uniformity issues on our TX-L55WT65 review sample truly needed attenuation: we'd gladly put up with some loss in near-black/ near-white detail.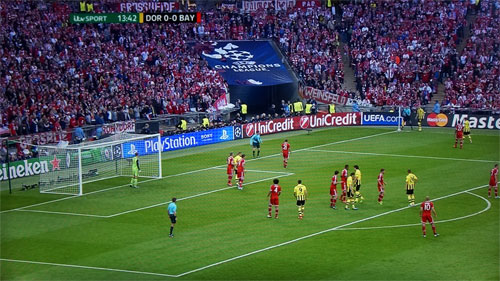 As long as there's some ambient light present, the Viera TX-L55WT65B was a very pleasing watch, what with its accurate greyscale (after calibration), well-saturated colours and wide viewing angles (by LED LCD standards). Standard-definition processing was strong especially with film-based material – the TV maintained 2:2 cadence lock throughout the final chapter of Bridget Jones: The Edge Of Reason PAL DVD, something that this year's Samsung and Sony LED TVs couldn't manage. The Panasonic WT65's SD-to-HD upconversion was slightly softer than the Sony W9, and not as forgiving as the Samsung F8000, but it's still in the upper echelon as far as scaling quality goes.
Panasonic haven't had any trouble implementing native 24p playback on its flat-panel HDTV models for a good few years now, and they're not about to start tripping up with their 2013 flagship LED LCD television. 1080p/24 signal from Blu-ray movies was handled competently without any evidence of telecine judder. The sheer detail and rich colour palette of HD content impressed as always, though peering up close we could spot faint, thin horizontal lines overlaying brighter backgrounds, resulting from the FPR (film-type patterned retarder) polarizing filter used by LG Display's passive 3D LCD panel. These "FPR lines" were not visible from a sensible viewing distance; we only mention this for completeness' sake – the Panasonic TXL55WT65B is the biggest passive 3D TV we've reviewed to date so the FPR structure was easier to pick up.
Which brings us to tri-dimensional viewing. Fans of passive 3D will know what to expect: flicker-free and bright 3D images – the TX-L55WT65 had no problem hitting 120 cd/m2 peak luminance even through the polarized 3-D glasses, but by doing so the extra-dimensional depth seemed lessened. Crosstalk was minimal, although like all passive 3DTVs, double "ghost" images would rear their ugly heads if we did not watch 3-dimensional content within 15° (vertically) of eye level.
Conclusion
The Panasonic TX-L55WT65B is a very decent HDTV suitable for bright room usage, but doesn't really offer much improvement in image quality over the more affordable Viera DT65 and ET60 series. In fact, our particular WT65 review sample exhibited more severe backlight uniformity issues than the aforementioned step-down models, though its larger screen size may be to blame here (55″ versus 42″ and 47″ for the DT and ET we tested respectively).
The TXL55WT65B's suggested retail price of £2500 is too high for the picture quality it's capable of delivering, even with 5-year warranty and a time-limited offer of free iPad 2 thrown in. Better value can be found in the ET60 and DT65 ranges, or, indeed, the Japanese brand's superb lineup of plasma televisions.