Panasonic has launched its first-ever ultra high-definition (UHD) television for the consumer market at the IFA 2013 trade show in Berlin today. With the announcement of the Viera WT600 UHD series, the company is also laying claim to the "world's first" 4K TV with HDMI 2.0 support capable of accepting and displaying 4K video signal in 60p, if only by virtue of its press conference being held before other major TV brands who are also expected to unveil new HDMI 2.0-compliant TVs throughout this week.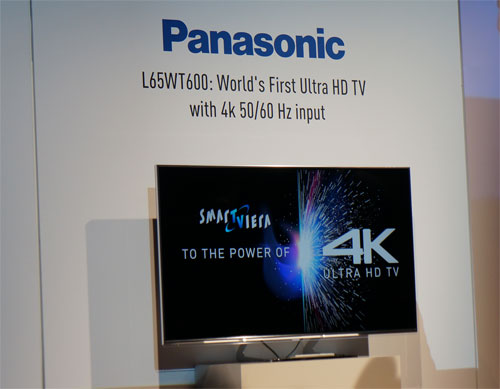 The Panasonic TX-L65WT600 is a 65-inch screen boasting a native screen resolution of 3840×2160, which delivers four times the pixel resolution of "regular" 1080p HDTV. The WT600 uses edge LED backlighting rather than Panasonic's famous plasma tech – we suspect the Japanese firm is probably unwilling to pour more R&D resources into mass-manufacturing 4K plasmas at this stage of the display technology's life cycle, especially with 4K OLED just around the corner.
The biggest draw on the Panasonic WT600 is obviously its compatibility with the HDMI 2.0 standard which has just been officially announced by the HDMI Licensing Group. The organisation, of which Panasonic is one of the founding members, will be fleshing the specifications of this next-generation of HD connectivity in detail at a press conference on Friday later this week. In line with HDMI 2.0 specs, the TX-L65WT600 will support 4K resolution at higher frame rates of 50fps and 60fps, bursting past the previous HDMI 1.4 limitations of 4096×2160 at 24fps or 3840×2160 at 30fps which would have put a dampener on fast-paced 4K content like live sports broadcast.
Other notable upgrades include support for DisplayPort 1.2a (a single-wire connection for receiving 4K source from professional 4K cameras or Windows/ Mac PCs and laptops), as well as 4K THX Certification, although the Panasonic 65WT600 will lose out to the Sharp UD1U in the "world's first" stake in this regard. Other onboard features, mostly prefixed by "4K", are:
4K Fine Remaster Engine: upscales any sub-4K content to 2160p;
4K Media Player: playbacks movies, video and photos from a USB drive or SD card, though good luck finding any native 4K content, let alone trying to fit it on an SD card or USB stick!
4K Intelligent Frame Creation: motion interpolates 60Hz to 120Hz (or 50Hz to 100Hz for us in the UK and Europe); and
4K Web Browser & 4K Online Playback.
Interestingly, the 65in Viera WT600 is listed as having inbuilt H.264 MPEG4 4K decoder rather than for the more efficient H265 codec – we'll try to clarify with Panasonic whether support for next-generation HEVC can be provided through a firmware update. Other features which are also found on the company's full HD 1080p models include a pop-up webcam, Hexa Processor engine, together with the brand's "My Home Screen" Smart TV portal.
The Panasonic TX-L65WT600B commands a retail price of £5,499, and will be available to buy at the end of September/ early October.