The Panasonic TX-P42G20 is the first of many new exciting HDTVs from various manufacturers to hit our review desk in 2010. On paper, the Panasonic TX-P42G20 offers quite a number of extra features — ranging from integrated Freeview HD tuner and USB-PVR functionality to THX certification and ISFccc controls — over last year's Viera G10 series, but do these translate into a step up in real-world performance? There's only one way to find out…

Note: The specific model we tested was the Panasonic TX-P42G20B (which denotes the 3-pin-plug British version), but the terms TX-P42G20, TXP42G20 and TX-P42G20B will be used interchangeably throughout this review to refer to the same plasma HDTV.
Design
From afar, the TX-P42G20 looks just like any regular Panasonic plasma television, with its glossy black bezel and a matching swivelling pedestal stand (which is packaged separately inside the shipping box and therefore requires assembly). Upon closer inspection however there are a number of practical improvements.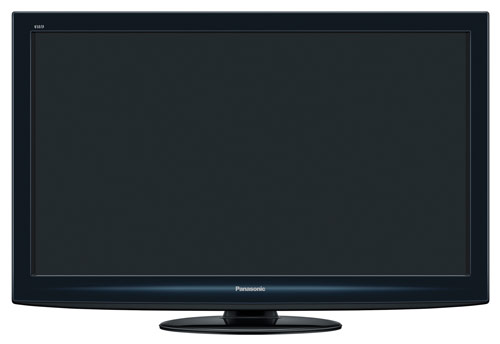 Effectively measuring only about 5cm in depth and 20kg in weight (without stand), the Panasonic TX-P42G20 is slimmer and lighter than the outgoing G10 series. Under external light its "black" bezel takes on a navy hue, and the gradiated accent along the bottom border becomes more obvious. But perhaps more importantly, we observed slightly less on-screen glare and reflections compared to last year's G10 and V10 plasmas due to implementation of an improved anti-reflective filter. Although this can make the G20 plasma screen look a little grey when switched off, the good news is that its contrast performance is largely preserved instead of washed out during daytime.
Also, by modifying the panel glass design, Panasonic have eliminated the "double image" phenomenon (multi-layered plasma glass causing "ghost image" — e.g. white text on black background — to be repeated behind the original image when viewed up-close and off-axis) on the TX-P42G20 plasma HDTV.
A quick look around the back of the Panasonic TX-P42G20 revealed no cooling fans nor recessed handgrips, and generally solid build quality.
Connections
The Panasonic TX-P42G20 has 4 HDMI inputs. Only the "HDMI2" port has met HDMI 1.4 specification by including an audio return channel (ARC).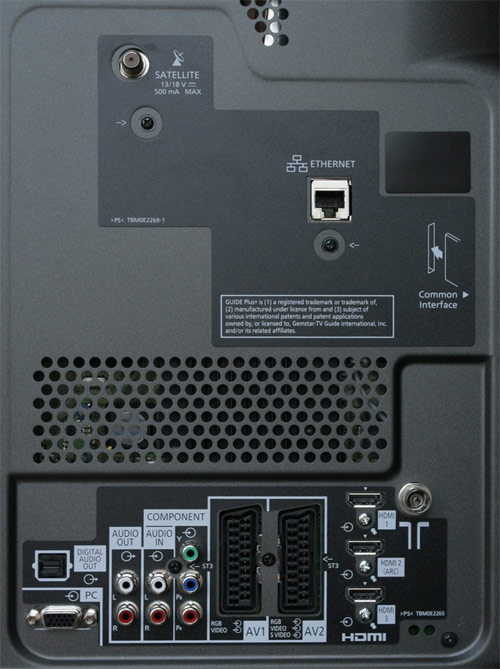 Rear: 3 x HDMI, VGA, component, 2 x Scarts, aerial, Freesat, ethernet & audio outs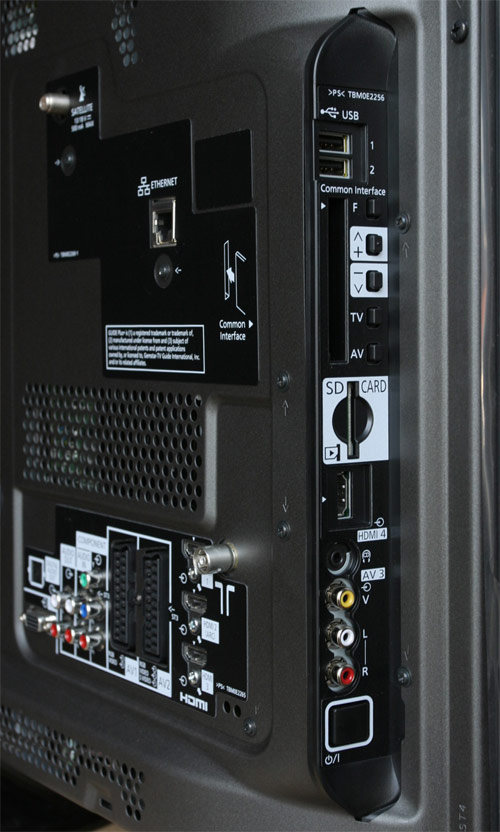 Side: 2 x USB, CI slot, SD card, HDMI, headphone out, composite & control buttons
Operation
Just like those found on previous Panasonic HDTVs we've reviewed, the user menu on the Panasonic TX-P42G20 features large legible fonts, a clear interface, and highly responsive navigation. There are a couple of small drawbacks though: there's no numerical indicator for the controls when making adjustments; and there's no warning message asking you to confirm your action when you click on the [Reset To Default] option, making it extremely easy to accidentally erase your saved settings to factory configuration.
[Picture] menu
| | |
| --- | --- |
| | |
| [Sound] menu | [Setup] menu |
Depending on the input, there are up to 6 global picture presets available: "Dynamic", "Normal", "Cinema", "THX", "Game" and "Photo". Engaging the [Advance(isfccc)] option in the [Setup] menu is essential to not only unlock the white balance and gamma controls for these picture presets, but also add 2 valuable [Viewing Mode] presets — named [Professional1] and [Professional2] — to each input.
| | |
| --- | --- |
| | |
| [Picture] > [Advanced Settings] submenu | [Setup] > [Other Settings] submenu |
The aforementioned white balance and gamma controls are housed in the [Picture] > [Advanced Settings] submenu. Under the [Setup] > [Other Settings] submenu, you can find more picture adjustment options like [Intelligent Frame Creation] and [Resolution Enhancer]. The latter is basically an edge enhancement control for SD images.
[Picture] > [Advanced Settings] submenu
Unlike the other global picture presets, the settings for the two [Professional] modes can be saved independently per input, and also mapped to any other input via the [Copy Adjustment] option. Furthermore, clicking on [Advanced Settings] in both [Professional] modes would open the door to advanced picture calibration options such as white balance, gamma and a colour management system:
| | |
| --- | --- |
| | |
| [Professional] mode > [Advanced Settings] | [Colour Management] submenu |
These user-accessible calibration controls have been conspicuously omitted from the UK versions of Panasonic flat-screen televisions for as far as we can remember, so a big thumbs up to Panasonic for finally introducing them on the TX-P42G20… AV enthusiasts who wish to adhere to motion picture standards will definitely be pleased.
Functionalities
This section will be updated as and when we get around to testing the [Viera Cast], DLNA, Wifi and USB-PVR functionalities on the Panasonic TX-P42G20.
Calibration
Greyscale
Out of the box, naturally the [THX] picture preset yielded the greyscale closest to D65 industry standard on the Panasonic TX-P42G20 plasma TV:
Pre-calibration CCT in [THX] mode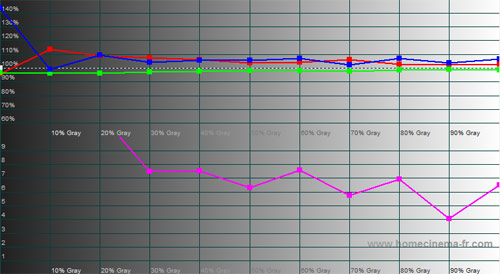 Pre-calibration RGB tracking and delta errors (dEs)
By adjusting the RGB gain and cutoff controls in the [Advanced Settings] submenu (which is made available by engaging the "Advance(isfccc)" option in the [Setup] menu), we calibrated the Panasonic TX-P42G20's greyscale in [THX] mode even closer to D65, and reduced delta errors (dEs) to below 4 from 30% stimulus onwards:

Post-calibration CCT in [THX] mode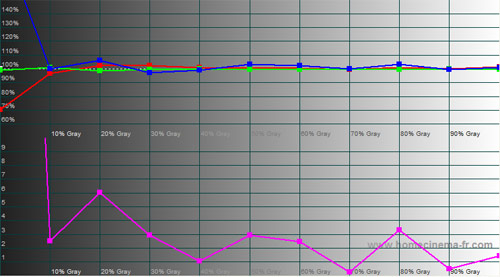 Post-calibration RGB tracking and dEs in [THX] mode
Unfortunately the resultant overall gamma was nearer to 1.9 than the ideal 2.2 (the gamma curve also adopted an S-shape at the top-end), which meant that pictures would appear slightly overbright and washed out due to a drop in image contrast. To add insult to injury, for some unknown reason the [Gamma] control had no effect in [THX] mode on our Panasonic TX-P42G20 review unit, hence preventing us from bringing gamma closer to 2.2.
| | |
| --- | --- |
| | |
| Gamma curve in [THX] mode | Corresponding gamma tracking |
Back to the drawing board then. Knowing that the [Professional] modes offer the most comprehensive set of picture adjustment controls on the Panasonic TX-P42G20 HDTV, we recalibrated from scratch in "Professional1" [Viewing Mode]. Here's the result:

Post-calibration CCT in [Professional] mode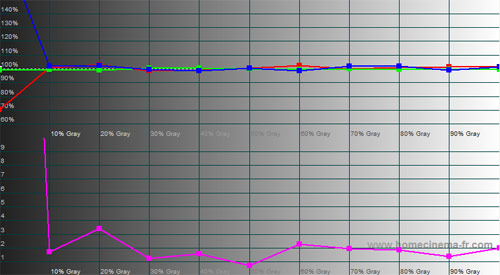 Post-calibration RGB tracking and dEs in [Professional] mode
With lower delta errors (dEs) across the luminance range, calibrated greyscale in [Professional] mode was even better than what we managed to achieve in [THX] mode. The functioning [Gamma] control in [Professional] mode also allowed us to obtain an excellent overall gamma of 2.21 on the Panasonic TX-P42G20 plasma TV.
Colour
Even prior to calibration, the [THX] and [Professional] modes on the Panasonic TX-P42G20 exhibited accurate primary and secondary colours when charted on a CIE diagram with reference to HD Rec. 709 specification. Switching to any other [Viewing Mode] resulted in an expanded colour gamut with oversaturated green and red primary colour points.
| | |
| --- | --- |
| | |
| CIE in [THX] mode | CIE in [Cinema] mode |
Activating [Vivid Colour] in the [Picture] menu brought about a small amount of red push and a mild change in cyan hue, so we left it turned off (the option is not available in the [THX] and [Professional] modes anyway).
The colour management system (CMS) hidden in the [Professional] modes on the Panasonic TX-P42G20 works quite well, but suffers from the following limitations:
It is effectively a 2D CMS (i.e. it allows you to adjust hue and saturation but not brightness); and
You can only adjust the primary colours (red, green, blue) but not the secondaries (yellow, cyan, magenta).
Here's what we found: when we used the CMS to map the RGB coordinates exactly to Rec.709 specification, a secondary colour would be "dragged" away from its original correct position, or the colour decoding would be off (however slight). In the end we simply left the CMS untouched, as the eventual colour points and colour decoding were accurate enough after calibrating greyscale to D65 in "Professional1" [Viewing Mode]: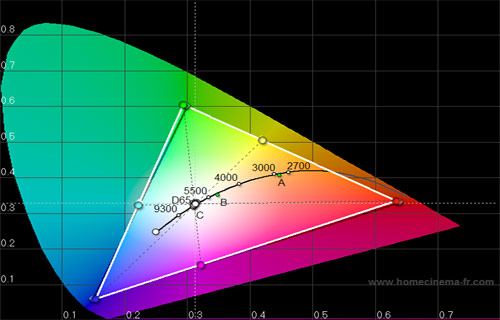 Post-calibration CIE chart with reference to HD Rec.709
Benchmark Test Results
| | |
| --- | --- |
| Dead pixels | None |
| Screen uniformity | Perfect |
| Overscanning on HDMI | 0% with [16:9 Overscan] set to "Off" |
| Blacker than black | Passed |
| Calibrated black level | 0.02 cd/m2 |
| Black level retention | Stable in [Cinema], [THX] & [Professional] modes |
| Primary chromaticity | Excellent in [THX] & [Professional] modes |
| Scaling | Above average |
| Video mode deinterlacing | Very effective jaggies reduction |
| Film mode deinterlacing | Failed 3:2/ 2:2 cadences in all resolutions |
| Viewing angle | Excellent (> 150°) |
| Motion resolution | [Intelligent Frame Creation] "On": 1080; "Off": 900 |
| Digital noise reduction | Less PWM noise than Pioneer Kuros |
| Sharpness | Defeatable edge enhancement |
| Image retention | Virtually none |
| Posterization | Mild, though worse with poor source |
| Phosphor trails | Yes; severity depends on individual susceptibility |
| 1080p/24 capability (PS3) | Accepts 1080p/24 video signal; no telecine judder |
| Input lag | 0ms-16ms slower than our resident Samsung F96 |
Power Consumption
| | |
| --- | --- |
| Default [Normal] mode | 133 watts* |
| Calibrated [Professional] mode | 172 watts |
| Standby | 1 watt |
* The default factory settings in "Normal" [Viewing Mode] was unusually dim: luminance output measured only 48 cd/m2 on a 100% stimulus windowed pattern, which is the reason why the power consumption of our Panasonic TX-P42G20 test sample was lower out-of-the-box than that after calibration.
Picture Performance
Black Level
Idling luminance (and calibrated black level) was measured to be 0.02 cd/m2 on the Panasonic TX-P42G20 HDTV, although whether or not this figure can be maintained over time remains uncertain (see boxed explanation). When powered on from standby, or when a DVD/ Blu-ray disc is being loaded, the plasma television would display a lighter black level of 0.05 cd/m2 for about 1 second before settling at its idling luminance.
Our Panasonic TX-P42G20 sample did not exhibit any black level fluctuation in its [Cinema], [THX] and [Professional] viewing modes.
A number of USA owners of Panasonic's 2009 plasma models have reported a sudden rise in black level on their plasma TVs after 1000 to 1500 hours of use. In an email response to CNet USA's queries, Panasonic USA confirmed that the black level on their 2009 plasmas can brighten over time as a result of automatic internal voltage adjustments which kick in at set intervals to maintain optimal picture performance throughout the life of the TVs.

Panasonic USA went on to state that the newest (2010) Viera plasmas will incorporate an improved algorithm to apply the voltage adjustments in smaller increments so that any change in black level over time is going to be more subtle.

Should you be concerned when buying a 2010 Panasonic plasma television? Our opinion is "no" for the following reasons:

While there exists a handful of subjective anecdotal reports, at this time of writing there is no concrete evidence showing that European and British sets are similarly affected by this loss in black-level performance; and
Measurements on a couple of American 2009 samples suggest a threefold rise in black level after 1500 hours of use. Assuming that the black level on the Panasonic TX-P42G20 will increase by the same factor, it's still going to be a respectable 0.06 cd/m2 which is generally adequate to produce deep blacks.

Disclaimer: This information has been included in this review for completeness… we hope that it will not be taken out of context, or blown out of proportion.
Motion Resolution
Using Chapter 31 of the "FPD Benchmark Software For Professional" as our reference test pattern, the Panasonic TX-P42G20 achieved a motion resolution of 900 with [Intelligent Frame Creation] disabled. Engaging [IFC] would boost motion resolution to 1080 (the maximum quantifiable limit in this particular test pattern).
Standard Definition
The Panasonic TX-P42G20's handling of standard-def signal — especially 576i — is much improved compared to last year's G10 and, for that matter, V10 plasma series.
The main area of improvement is in the quality of scaling/ upconversion. Whereas in the past SD material can look soft and/or blurry on previous Panasonic plasmas, the TX-P42G20 resolved every line of the DVD format (both PAL and NTSC), capturing sufficiently sharp detail (either off-air or from DVDs) without any sign of excessive ringing. Engaging [Resolution Enhancer] in the [Setup] menu would inject some edge enhancement to make standard-definition content look even sharper, but because we started witnessing some unnatural halos and stairstepping (however slight) around high-contrast moving edges, we left it off.
Just like the G10 and V10 series, the Panasonic TX-P42G20 HDTV smoothened jaggies effectively for video-based material, but failed to detect and process 3:2 and 2:2 cadences for film-based content. This deficiency in film-mode deinterlacing means that discerning viewers might notice some deinterlacing artefacts such as moire and line twitter in 24p movies and American dramas.
On the whole however, SD programmes — as long as the source bit-rate was up to par — were a joy to watch on the Panasonic TX-P42G20 thanks to its inky blacks, excellent contrast, accurate colours and decent upscaling.
High Definition
The Panasonic TX-P42G20 plasma is the first flat-screen HDTV we've tested that boasts an integrated Freeview HD tuner, though this is expected to become a commonplace feature on almost every new HDTV launched in 2010. If you're fortunate enough to live in an area with Freeview HD reception (at this time of writing only 2 transmitters are sending out Freeview HD broadcasts: Crystal Palace in London, and Winter Hill in the North West), you can hook the Panasonic TX-P42G20 up directly to your TV aerial to watch a limited number of HD channels without needing to install a satellite dish or pay any subscription.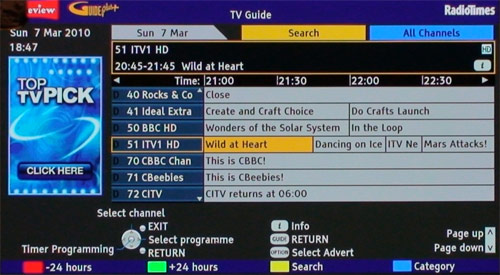 Currently the only available HD channels on Freeview HD are BBC HD and ITV HD, but Channel 4 HD and Five HD are scheduled to be added sometime later in 2010. On Freeview HD, ITV HD is broadcast as a separate channel (mostly an upscaled simulcast of ITV1 with the occasional native high-def programmes thrown in), but sometimes you may get the message "This programme is unavailable on ITV HD" when there's no content. This is different from the arrangement on Freesat (which the Panasonic TX-P42G20 can also receive through its onboard Freesat tuner) where ITV HD is offered as a red-button service.
In terms of picture quality, black-level reproduction and contrast performance were predictably top-notch on the Panasonic TX-P42G20. While subjectively only a hair deeper than those on last year's Viera G10 plasma series, the inky blacks served as an ideal platform for the incredibly lush colours of HD content to shine with a stunning degree of authenticity that's impossible to achieve without D65 greyscale or accurate chromaticities.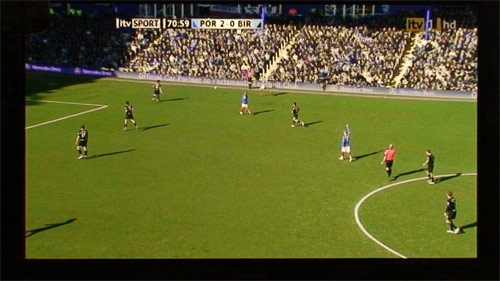 Even without [Intelligent Frame Creation] engaged, motion clarity on the Panasonic TX-P42G20 plasma TV was more than acceptable when we watched some live FA Cup football action on ITV HD. Activating [Intelligent Frame Creation] did bring about some subjective improvement in motion resolution, but the frame interpolation also caused the ball to "shimmer" when flying past the crowd (though this was nowhere near as conspicuous or offensive as the notorious "triple-ball" tearing artefact witnessed on older Samsung flat screen HDTVs).
1080p/24 video signals were handled properly without any evidence of telecine judder. Engaging [24p Smooth Film] — this option appears in the [Setup] > [Other Settings] submenu in place of [Intelligent Frame Creation] when the TV senses a 24p signal — would introduce a video-like effect to film-based material.
HD Console Gaming
Out of 10 consecutive runs, the Panasonic TX-P42G20's input lag was measured to be on par with our resident Samsung F96 LED-based LCD television 4 times, and 16ms slower 6 times. [Game Mode] and [Intelligent Frame Creation] did not make any difference to the input lag figures.
Note: Our resident Samsung LE52F96BD with [Game Mode] engaged has about 30ms of latent input lag vs a CRT.
For us, reflex-dependent video games like Call Of Duty: Modern Warfare 2 played fluidly on the Panasonic TX-P42G20, which together with punchy contrast and vibrant colours amounted to a truly absorbing gaming experience. However, whether or not your gaming performance is going to be affected by this amount of input lag depends on your own individual sensitivity, and the reflexes demanded by the particular game.
We witnessed virtually no image retention on the Panasonic TX-P42G20 plasma television, but there's no harm in taking the appropriate precautions and avoiding lengthy non-stop gaming sessions (at least for the first 200 hours) to prevent permanent screenburn.
On our review sample we did not notice any green/ yellow flashes (also known as phosphor trails, plasma rainbows, green fringe, phosphor lag, etc.) on fast-moving, high-contrast edges. However, because individual susceptibility (i.e. how sensitive your eyes are to the temporal fluctuations of plasma cells) plays a major part in determining whether you see these phosphor trails or not, you should trust your own viewing experience rather than what we say in this regard. If you have seen them before on other plasmas, it is very likely that you will see them too on the Panasonic TX-P42G20 given that the underlying plasma technology remains unchanged.
A Word On Flicker
Several readers have remarked that they see a flickering effect — think CRT monitors with low refresh rates — on Panasonic NeoPDP plasma TVs. For the record, the only times we have noticed flicker on the Panasonic G10/V10/G20 plasmas were from the corner of our eyes when our gaze was focused on our calibration laptop screen, AND only if the plasmas were displaying bright (mostly white) content. Otherwise, we have not witnessed any flicker in real-life viewing.
That said, because the ability to detect flicker varies from one individual to another, it's not beyond the realm of possibility that some unfortunate viewers with high flicker sensitivity may see flicker on NeoPDP plasmas all the time (just like how some people can still complain of flicker on a CRT monitor refreshed at 85Hz). If you have been troubled by flicker on the G10/V10 plasmas, then the Panasonic TX-P42G20 won't be suitable for you either.
Audio Performance
Due to its slimmer chassis, the Panasonic TX-P42G20 sounded flimsier that last year's G10. The down-firing orientation of the hidden speakers significantly dented audio resolution and stereo imaging, but at least the volume could go pretty loud with reasonably clear dialogue for run-of-the-mill viewing.
Background Noise
Our review unit emitted a soft buzz from the front of the screen. Like most plasma televisions, the brighter the on-screen content, the louder the buzz, but we were never really bothered by the plasma buzz on the Panasonic G20 at normal TV volume and sitting distance.
Conclusion
It seems to us that the best bits of Pioneer Kuro technology acquired by Panasonic have been reserved for higher-end models such as the forthcoming V20 and VT25 series, because as far as black-level performance on the Panasonic TX-P42G20 is concerned, any improvement over last year's G10 series can only be described as marginal. In other words, whilst inky its blacks still cannot match those seen and measured on the legendary 9G Pioneer Kuros.
Nevertheless, the Panasonic TX-P42G20 represents a clear step up from its predecessor, as it successfully addresses a few deficiencies we pointed out on the G10:
White balance and gamma controls are now available in the user menu, allowing us to calibrate the plasma panel in line with motion picture industry standards;
The [THX] and [Professional] modes can effortlessly deliver accurate colours without red push; and
The quality of SD scaling/ upconversion has improved visibly, so terrestrial SD broadcasts will look sharper and more detailed on the G20 compared to the G10.
An integrated Freeview HD tuner, commendable motion clarity, wide viewing angles, and reduced power consumption (cf. previous 1080p plasmas) complete this terrific package. Although it's early days (after all we haven't examined any 2010 offerings from other TV manufacturers), the Panasonic TX-P42G20 appears to be the HDTV to beat in 2010 when it comes to overall picture quality at this screen size and price point.