The much-awaited V10 series of plasma TVs from Panasonic – comprising the 42-inch TX-P42V10 and 50-inch TX-P50V10 – have hit UK stores, and are now available to buy from retailers such as John Lewis. Sitting one rung up from the G10 series we tested recently within Panasonic's hierarchy of Viera plasmas, the V10 series offer the following extra features over the G10:
THX video certification;
"Single-sheet-of-glass" design;
An additional HDMI input (4 on the V10 series vs 3 on the G10);
[Digital Cinema Colour], the activation of which produces an expanded colour gamut;
[24p Smooth Film], the activation of which applies Panasonic's motion-compensated frame interpolation (MCFI) technology to 24p material;
[Viera Cast] which lets you enjoy certain internet content (e.g. Youtube, Bloomberg, Picasa, Eurosport) on the TV from an Ethernet connection without having to switch on your computer; and
DLNA media streaming capabilities.
Panasonic TX-P42V10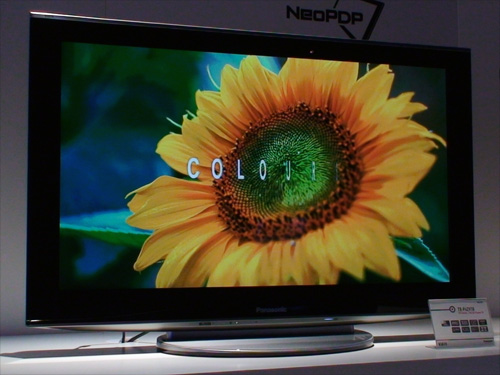 We first saw the THX-certified Panasonic TX-P42V10 at their 2009 Convention in Amsterdam, and were suitably impressed by its deep blacks, natural-looking colours and clear motion. Now that we have received a review unit, we'll see if the initial impression holds up in our comprehensive array of tests.
Note: Our Panasonic TX-P42V10 review is currently under way… estimated publication time is early next week.
Panasonic TX-P46Z1
At the Panasonic Convention 2009, we also saw the 46-inch Panasonic TX-P46Z1 which is part of their flagship Z1 series. The Panasonic TX-P46Z1 (RRP £4300) boasts an ultra-slim design and a wireless media box which – according to Panasonic – is capable of transmitting uncompressed full HD content without any deterioration in image or audio quality. Users craving for even larger screen can opt for the 54-inch TX-P54Z1 (RRP £5500).
Pitched as a lifestyle product, and featuring many hand-built components coming from a new production line in Japan, the Panasonic Z1 series will be sold exclusively in selected stores in very limited numbers in the United Kingdom.