Panasonic has announced three new 4K Blu-ray players – namely the DMP-UB400, UB310 and UB300 – at the CES 2017 consumer electronics show in Las Vegas this week. Positioned as more affordable models to the DMP-UB900 and DMP-UB700 released last year, these new machines bring the total number of Ultra HD Blu-ray decks offered by the Japanese manufacturer to five.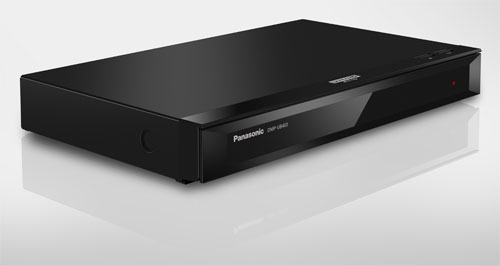 Compared with the step-up UB900 and UB700, Panasonic's new 4K BD players do not feature Ultra HD Premium certification or the pair's 4K High-Precision Chroma processor. Instead, they are powered by an HCX (Hollywood Cinema Experience) processor which inherits many aspects of the UB900/ UB700's image processing including multi-tap filter and 4K Direct Chroma upscaling. Here's a quick rundown of the key differences between all 5 Panasonic UHD Blu-ray players:
DMP-UB300: HCX processor, 1 HDMI output, no Wifi, no optical out
DMP-UB310: Adds Wifi
DMP-UB400: Adds 2 HDMI outputs for split audio/video, and High Clarity Sound Premium with optical out
DMP-UB700: Adds 4K High Precision Chroma processor, Ultra HD Premium certification, and front-loading SD card slot
DMP-UB900: Adds THX certification, 7.1 analogue audio output, classy backlit remote and isolation feet.
Each of these Panasonic 4K Blu-ray players will support 3D Blu-ray playback and 4K streaming though not Dolby Vision. Perhaps the most interesting new features on the Panasonic UB400, UB310 and UB300 are optimised HDR-to-SDR conversion and bright-room HDR presentation. With the former advancement, the Japanese brand aims to extract the extra detail found on Ultra HD Blu-ray discs, and provide a user-adjustable tone-mapping function to display them on an SDR TV with a final picture that surpasses 1080p Blu-rays in brightness and beauty.

Panasonic has also recognised that HDR content is generally unsuitable for watching in high ambient lighting, since the source signal is encoded in absolute luminance as code values, and most HDR TVs would max out their [Backlight] and [Contrast] settings in HDR mode, leaving little headroom for manoeuvre unlike SDR (whose video signal operates in relative luminance) where gamma can be used effectively to brighten the picture by applying a gain adjustment. Some viewers engage [Dynamic Contrast] on their televisions to obtain a luminance boost for watching HDR during daytime, but it's far from ideal because there's little to no compensation for the PQ (perceptual quantisation) EOTF (electro-optical transfer function) used in ST.2084 HDR10 standard.

What Panasonic engineers have designed is very clever: they will first convert the input YUV signal to linear RGB before applying gain adjustments, therefore raising the brightness of hard-to-see dark detail for bright-room viewing, yet without degrading the image even when the scene cuts to a brighter one. The company is planning to add these useful features to the already launched UB900 and UB700 via a firmware update in the future.
The Panasonic DMP-UB400 and UB300 should hit UK store shelves in spring, but the UB310 won't be released in Britain. Price remains unconfirmed.