Although Panasonic's press conference at the IFA 2012 consumer electronics trade show in Berlin this afternoon was largely dominated by ecological and smart living themes, the company hasn't neglected its visual display products which have almost always impressed us here at HDTVTest (plasma-wise anyway). The Japanese TV manufacturer took this opportunity to reveal its vision of future display technologies, which unsurprisingly includes the latest fad in town – UHDTV or ultra high-definition television.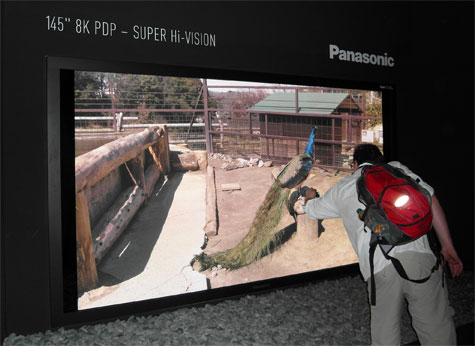 Panasonic goes UHDTV with 145″ 8k plasma
First up is a truly gigantic 145-inch plasma display panel (PDP) which boasts a native screen resolution of 7680 x 4320 (also known as 8k). The screen was developed by Panasonic in collaboration with Japanese broadcaster NHK using the latter's cutting-edge Super Hi-Vision technology. Both companies claimed that they had to incorporate a revolutionary plasma cell driving method in the panel, or else any flicker would become problematic at such a screen size and resolution.
Encoved in a dimly-lit recess, the Panasonic 145-incher absolutely dripped with exquisite detail (in addition to the hypnotic blacks and vibrant colours we've come to expect from the firm's plasmas), prompting several members of the press to lean forward in order to scrutinise the pixel definition. Of course, at this time of writing native 8K content are few and far between, but it's always good to get a glimpse of the pinnacle of display technology at present.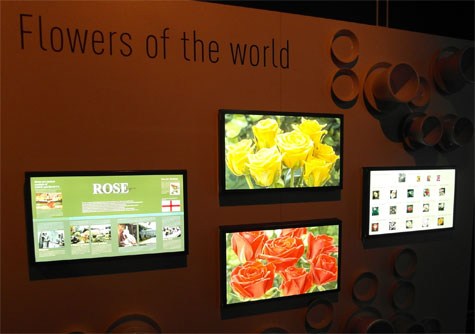 Sticking to the ultra-HDTV slant (as most TV manufacturers would be at this event), Panasonic also showcased a number of 20-inch 4K LCD TVs which was first seen at the Consumer Electronics Show (CES) in Las Vegas earlier this year. Blessed with 3840 x 2160 native resolution and wide viewing angles thanks to the IPS-alpha panel on board, these displays are pitched at commercial entities rather than the general public who probably won't appreciate such high resolution packed into such small screen size (unless it's packaged within an Apple device and given a brilliant moniker like "Retina Display").