Panasonic has revamped its existing Viera Cast IPTV (internet-protocol television) platform to become Viera Connect, and also introduced a companion touch-screen LCD terminal dubbed the Viera Tablet, in an effort to capitalise on two of the hottest trends seen at the Consumer Electronics Show (CES) in Las Vegas this year: internet-connected HDTVs and tablet PCs.
Viera Connect
Worried that the previous title of Viera Cast may be too didactic and restricted, the Japanese TV manufacturer decided to change the name of its internet TV portal to Viera Connect to better resonate with consumers looking for more interaction and personalisation from their internet-enabled television (IETV) sets. As a result, 2011 Panasonic HDTV models will sport the Viera Connect rather than Viera Cast platform.
Besides inheriting existing services like YouTube, Twitter, Skype, Amazon video-on-demand (VoD), Bloomberg, Pandora and Netflix from VieraCast, the Viera Connect platform is further bolstered by new web-connected apps such as Facebook, Hulu Plus, Napster, CinemaNow, Ustream and select catch-up sports broadcasts. Also fresh is the Viera Connect Market store, from which users can download third-party applications to customise their Panasonic flat-screen televisions with even more functionalities.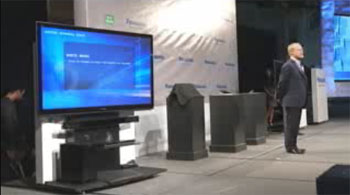 At its CES 2011 press conference, the company demonstrated a 3D racing game (Asphalt 5 developed by mobile game specialist Gameloft) which can be downloaded and played directly on Viera internet-connected TVs even against other online players, and a body weight and fitness monitoring programme from BodyMedia. Similar to what Samsung did with its Smart TV offering last year, Panasonic is inviting application developers to create new TV apps on its open Viera Connect platform.
Viera Tablet
Joining other hardware manufacturers who showcased one tablet after another at the CES 2011 largely due to the runaway popularity of the Apple iPad, Panasonic also unleashed a new portable tablet device on unsuspecting journalists at its CES press event.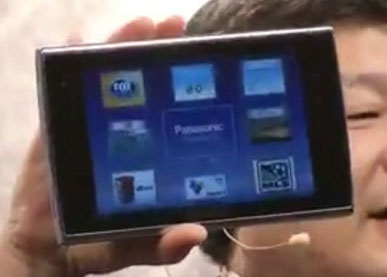 Different from other tablet PCs launched at the trade show, the Viera Tablet is meant to be used as a companion device to HD TV displays featuring the Viera Connect interface, instead of as a standalone gadget. Providing access to a variety of cloud-based services on Viera Connect HDTV sets, the Android-based tablet can be used as a touchscreen remote control, or as a secondary display to enjoy web-connected services, partake in social networking activities, stream live TV broadcast or watch multi-angle content (e.g. football replays from alternate angles).
Available in three sizes of 4, 7 and 10 inches judging from the prototypes exhibited at Panasonic's CES booth, the Viera Tablet will be rolled out globally "later this year", said the company.