Another February, another Panasonic Convention. Each year, Panasonic Europe kits out a conference centre or hotel with its new lineup of Plasma, LCD/LED LCD, Blu-ray Disc, and digital photography products, and allows the invited journalists and dealers from across Europe to see what's in store for the new year.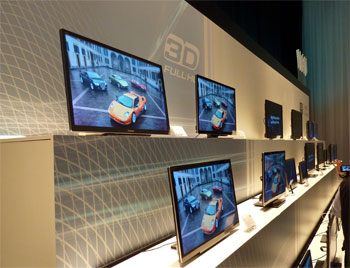 Unsurprisingly, 3D TV was still the main focus for the company. Panasonic has three new "Neo Plasma" (formerly "NeoPDP") ranges for 2011: the entry-level ST30, the mid-range GT30, and the high-end VT30, all of which appear to include incremental improvements on the outgoing 2010 models. The improvements aren't just technical, however: Panasonic has been listening to criticism surrounding the aesthetics of their HDTV ranges, and has given its 2011 products a sleek makeover.
From published specifications and discussions with Panasonic, we know that the GT30 and VT30 are THX Certified for both 2D and 3D content, and both include Imaging Science Foundation approved calibration controls. These two seals of approval mean that these Plasma displays are likely to, once again, prove popular with enthusiast users who want to see the most accurate images possible. The GT30 display features the "Infinite Black Pro" banding, as does the higher-end VT30 – however, the VT30 features a better ambient light rejecting screen coating.
The high-end VT30 model also goes one step further with picture setup options, the most useful of which will likely be the 10-point Greyscale calibration, which we understand is exclusive to the high-end model. This should result in marginally better quality pictures in 2D, and, assuming it works correctly, markedly superior quality in 3D (since all current 3D Plasma displays have a tough time maintaining consistent Grey shades when they are operating in 3D mode). However, it appears that these advanced features will not be part of the TV's own user-accessible menus, and will instead require the TV to be interfaced with Spectracal's CalMan calibration software, via an Ethernet connection, for users to reap the benefits.
Unusually, Spectracal were in attendance at the convention – a surprising move which again demonstrates Panasonic's new-found commitment to the enthusiast market. Working with Panasonic, Spectracal have developed a new automatic calibration process, which requires absolutely minimal levels of user intervention in order to achieve visually flawless results. As previously noted, the convention is also open to dealers, who we understand are also being shown the "hands-free" calibration process. Will we see box-shifting high street stores begin to offer display calibration to the public, if it is made this easy to provide it as a service? Time will tell.
The entry-level ST30 model, on the other hand, appears to be a re-purposing of last year's 3D panel technology. Like last year's S20 Plasma (which, in the UK at least, was a re-purposing of the previous year's mid-range technology), it doesn't feature any picture calibration controls, but Panasonic's own preset picture modes were excellent last year, meaning that this won't necessarily be an issue. From what we gather, the performance of the ST30 should be comparable to the performance of 2010's GT20 model, which we reviewed back in October.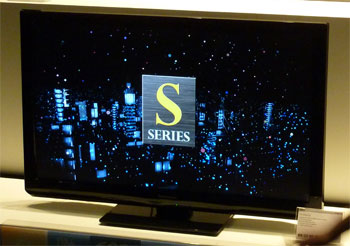 If you're not sold on 3D, Panasonic still has three ranges of 2D Plasma displays: the entry-level C3, which is an "HD Ready" model, the mid-range S30, and the higher-end G30. The G30 is rated as featuring "Infinite Black" (compared to the 3D-capable GT30's "Infinite Black Pro"), whereas the S30 does not. Based on our assessments of previous Panasonic Plasmas, we'd imagine this means that the S30 has both a slightly higher minimum luminance level (marginally poorer black level) and also a less capable reflection-killing screen filter, which affects contrast performance in bright rooms.
Based on the questions we put to our readers during the HDTVTest live text coverage of the product unveiling at the convention, we know that there have been many people disappointed with the lack of a 2011 update to the V-Series, indicating that a good number of readers still want a premium 2D-only display. These readers will likely take comfort in knowing that 2011's G30 Plasma seems to be somewhere inbetween last year's G20 and V20 in terms of performance. Despite being a 2D-only Plasma, the G30 now features the Short-Stroke Phosphor material, which has previously only been deployed on 3D displays, due to the fact that it helps alleviate 3D crosstalk. For 2D images, the knock-on effect here is reduced phosphor trailing, and generally sharper motion. However, it does appear that as time passes, users wanting a premium Panasonic display will need to buy into 3D, whether they like it or not. With falling prices, however, this hopefully won't prove too unpopular.
We also spoke with Panasonic's engineers and raised some of our own concerns, as well as those of our readers. Rest assured, Panasonic are aware of, and listening to the feedback from enthusiast users (the fact that ISF calibration controls were introduced into their 2010 range was prompted by enthusiasts, after the departure of Pioneer from the Plasma TV market). We spoke with their in-house experts about the motion quality produced by the VIERA Plasma displays when replaying 50hz (European TV standard) material, the "fuzzy double images" effect sometimes spotted on newer displays (which we learned is the result of motion-adaptive dithering, a side-effect of attempting to conceal posterization), black level/MLL rising, 3D vertical resolution, 3D Greyscale tracking quality, and video game input lag. Panasonic were less aware of the input lag issue, which is consistent with what we find from other manufacturers, but as always, they welcomed our findings and asked for more information to be sent back to the engineers in Japan.
Panasonic is traditionally known for its Plasma products, but they're also catering to customers who prefer an LCD display. In fact, this year, Panasonic is introducing its first 3D-capable LED LCD display. Using new IPS Alpha panels produced by the company's own facility (that is, not bought in from an outside vendor such as LG Display), Panasonic has reduced crosstalk to what it deems to be an acceptable level for its first LCD-based TVs. These are the Viera DT30 and DT35 series, the latter of which is exclusive to Europe. Unfortunately, there's some bad news, too: according to a company source, the locally-dimmed NeoLCD technology, which was shown in an impressive prototype form two years ago at Panasonic's 2009 convention in Amsterdam, is no longer being developed due to cost reasons.
All of the newly announced products for 2011 certainly looked impressive, and we look forward to seeing what other improvements Panasonic has made based on feedback. We eagerly await review samples to make their way to us over the coming months.