Panasonic has launched its 2012 Smart Viera range of 3D plasma TVs amid little fanfare at the Consumer Electronics Show (CES) 2012 in Las Vegas. Usually products that excite videophiles all around the world (especially since the withdrawal of Pioneer from the TV market), Panasonic HDTV models received surprisingly little mention at the Japanese manufacturer's CES 2012 press conference which instead focused on the company's green innovations, Viera Connect IPTV (internet-protocol television) platform, as well as its new alliance with MySpace TV.
Panasonic VT50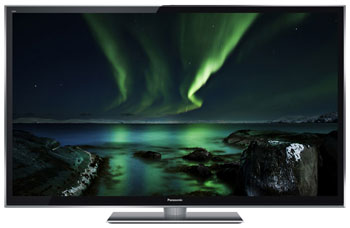 The new top-of-the-line plasma will be the Panasonic VT50 series which replaces the outgoing VT30: the jump from 30 to 50 in the model number is to avoid the figure 4 which is deemed unlucky according to Japanese superstition. Currently two screen sizes – 55 and 65 inches – are planned for the American market, although we expect at least another 50-inch model to go on sale in the UK and Europe.
| | | |
| --- | --- | --- |
| Screen Size | US Model Number | UK Model Number |
| 50-inch | N/A | Panasonic TX-P50VT50 or TX-P50VT50B |
| 55-inch | Panasonic TC-P55VT50 | Panasonic TX-P55VT50 or TX-P55VT50B |
| 65-inch | Panasonic TC-P65VT50 | Panasonic TX-P65VT50 or TX-P65VT50B |
These flagship plasmas will feature full HD 3D resolution, Infinite Black Ultra NeoPlasma panel with fast-switching phosphors and 2500 FFD (Focused Field Drive), 24,576-step gradation technology, 2D-to-3D conversion, THX certification in both 2D and 3D, ISFccc calibration mode, one-sheet-of-glass design, new Louver filter, the inclusion of a Viera Touch Pad controller, Viera Connect internet-connected platform with in-built web browser, and integrated WiFi. We will reserve judgement on whether some of these innovations actually bring about any improvement in picture quality (over last year's already-excellent VT30) until we see the European versions at this year's Panasonic Convention in Hamburg next month, or test them in-house.
Panasonic GT50
One rung down from the VT50 is the Panasonic GT50 3D plasma series. A quick glance at the spec sheet revealed that compared to the VT50, the GT50 only features an Infinite Black Pro (rather than Ultra) panel, and a more traditional (albeit still stylish) separate bezel and screen design. It also lacks direct ISF interfacing, and does not ship with the Touch Pad remote controller.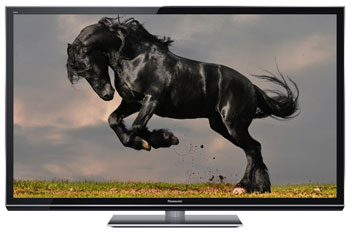 Four screen sizes are planned for the US market, but again we expect to see a 42-inch model to cater for the smaller home sizes in the United Kingdom and Europe:
| | | |
| --- | --- | --- |
| Screen Size | US Model Number | UK Model Number |
| 50-inch | Panasonic TC-P50GT50 | Panasonic TX-P50GT50 or TX-P50GT50B |
| 55-inch | Panasonic TC-P55GT50 | Panasonic TX-P55GT50 or TX-P55GT50B |
| 60-inch | Panasonic TC-P60GT50 | Panasonic TX-P60GT50 or TX-P60GT50B |
| 65-inch | Panasonic TC-P65GT50 | Panasonic TX-P65GT50 or TX-P65GT50B |
Panasonic ST50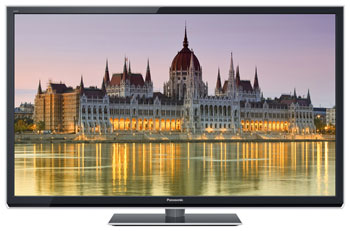 The ST50 is the company's most affordable plasma-based 3D TV model that employs an Infinite Ultra Black Pro panel. Compared to the step-up GT50 range, features that are omitted on the Panasonic ST50 are the inbuilt smart browser, multitasking capabilities, 24,576-step gradation, and THX certification. There is also one less HDMI ports (three instead of four). Six screen sizes ranging from 42 to 65 inches are available:
| | | |
| --- | --- | --- |
| Screen Size | US Model Number | UK Model Number |
| 42-inch | Panasonic TC-P42ST50 | Panasonic TX-P42ST50 or TX-P42ST50B |
| 46-inch | Panasonic TC-P46ST50 | Panasonic TX-P46ST50 or TX-P46ST50B |
| 50-inch | Panasonic TC-P50ST50 | Panasonic TX-P50ST50 or TX-P50ST50B |
| 55-inch | Panasonic TC-P55ST50 | Panasonic TX-P55ST50 or TX-P55ST50B |
| 60-inch | Panasonic TC-P60ST50 | Panasonic TX-P60ST50 or TX-P60ST50B |
| 65-inch | Panasonic TC-P65ST50 | Panasonic TX-P65ST50 or TX-P65ST50B |