Panasonic has taken the covers off its 2013 lineup of Smart Viera plasma TVs at the company's CES 2013 press conference held at the Mandalay Bay Hotel in Las Vegas this morning. As we previously reported on Twitter, the VT series no longer holds the flagship status – the throne has been passed onto the Panasonic ZT60 series. The GT series has been dropped, so the Viera VT60 becomes the step-down range, with the ST60 series retaining its place as the value-for-money proposition.
Panasonic ZT60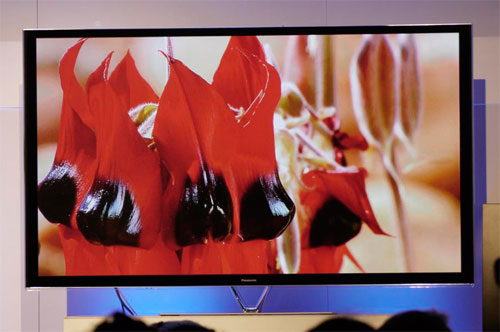 Panasonic ZT60, VT60 & ST60 plasma TVs launched at CES 2013
Panasonic's new top-of-the-line ZT60 series will come in two screen sizes for the US market: the 60-inch TC-P60ZT60 (British model number TX-P60ZT60 or TX-P60ZT60B), and the 65-inch TC-P65ZT60 (UK-equivalent TX-P65ZT60 or TX-P65ZT60B). It is unknown at this stage whether there will be 50″ or 55″ models released in the United Kingdom and Europe.
Listed specifications related to picture quality are:
A new Studio Master Panel which is purportedly driven by a new method for deeper blacks
Direct attachment of the front glass to the plasma panel, eliminating any gap and double images
A new Louver filter to combat reflection in bright viewing environments
3000 Focused-Field Drive (FFD), which represents an increase over the 2500 FFD on last year's VT50
Active 3D technology (ships with 2 pairs of active-shutter 3D glasses)
Newly developed pure red phosphor which is claimed to deliver a wider colour gamut (DCI 98% Colour Space)
THX-certified in both 2D and 3D modes, with ISFccc calibration controls
Other features include the existing "Glass and Metal" styling, a redesigned stand with a V-shaped pedestal, a touchpad remote controller with voice control and speech recognition technology, Viera Connect Smart TV portal, a revamped user interface dubbed "My Home Screen", WiFi and Bluetooth connectivity, as well as Touch Pen functionality (the actual accessory needs to be purchased separately).
Panasonic VT60
The demoted Panasonic VT series will take the place of the ousted GT series as the midrange Smart Viera plasma model. Three screen sizes are available: the 55-inch Panasonic TC-P55VT60 (UK model TX-P55VT60/ TX-P55VT60B), the 60-inch TC-P60VT60 (UK model TX-P60VT60/ TX-P60VT60B), and the 65-inch TC-P65VT60 (UK model TX-P65VT60/ TX-P65VT60B). Compared to the top-end ZT60 series, the Panasonic VT60 lacks the Studio Master Panel (it only has an Infinite Black Ultra Panel), the new pure red phosphor with wider gamut, nor the Louver filter. We'll have to wait until we get both in for review to see if there's any actual difference in image quality.
Panasonic ST60
The successor to last year's budget darling ST50 will be released in four screen sizes for the American market – 50″, 55″, 60″ and 65″ – although we hope that there will be a 42-inch model to cater for the smaller home sizes in the European market. The Panasonic ST60 "only" has Infinite Black Pro panel with 2500 FFD, and lacks THX certification nor advanced calibration controls.
Interestingly, Panasonic made no mention of ultra HD 4K nor OLED TV in its press conference, in direct contrast to LG Electronics and Sharp who have held their press events earlier. We'll learn more tomorrow at the showfloor (as well as next month's Panasonic Convention) if the Japanese manufacturer intends to pursue these display technologies.