The battle between active and passive 3D camps for domination of 3D-capable HDTV arena has proved interesting thus far, not least because of the mudslinging that has been going on in Korea, the home country of the two technologies' respective chief proponents. LG Electronics, who first unveiled its film-type patterned retarder (FPR) polarized 3D LCD technology in December last year, claims that its "Cinema 3D" TV sets provide a more comfortable tri-dimensional viewing experience which can be easily enjoyed by family and friends, while Samsung maintains that only active-shutter 3D technology is capable of delivering full HD 3D resolution for better picture quality.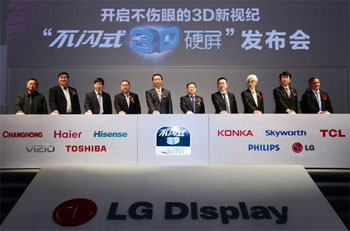 Because the polarized 3D glasses are much cheaper to buy (as low as £2 per pair) and more convenient to use (they do not require batteries, synchronisation nor charging), passive 3D TVs have been expected to gain market share, especially with several famous TV brands like Toshiba and Philips jumping on board. And now, a market research and consulting firm specialising in the consumer electronics sector has predicted that polarized 3D will eventually overtake active 3D in terms of panel shipment volume.
According to a recent study titled "Can 3-D Feature Increase a TV's Appeal to Consumers?" from California-headquartered IHS iSuppli, global shipments of passive 3DTV displays will exceed those for active 3D televisions by the year 2015. Given the lack of mention of glasses-free 3D (also known technically as autostereoscopy), perhaps the firm thinks the technology still won't be a force to be reckoned with in four years' time, even though quite a number of surveys have indicated that obligatory 3D eyewear remains high on the list of factors that puts consumers off buying a 3D TV.
In its report, iSuppli also forecast that 3D television sales will surge spectacularly this year, owing to price drops and increasing 3D content availability. The company's US TV Price and Specifications Tracker index revealed a 9% month-on-month drop in prices of 3D TV models during March 2011, with more price shifts expected next year. On the programming front, over 80 sources of live 3D broadcast and pay TV channels had been delivered by the end of 2010, and more are scheduled to become available this year.