Philip's 2013 4K TV lineup might have been a bit on the big side in terms of screen size, if the company's latest television models for this year is anything to go by. The Dutch TV brand has just announced its 2014 range of 4K Ultra TVs featuring smaller sizes, and there's quite a few nifty new features that might just tempt you to buy.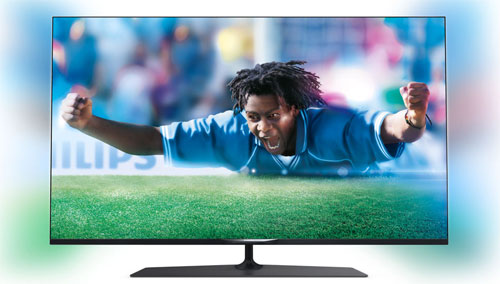 The new lineup encompasses Philip's 4000, 5000, 6000, 7000 and 8000 series, but it's the latter two we're most interested in. With the 7000 and 8000 series, several new models are offered with a range of different display sizes and features available. The biggest of the bunch is the 55-inch 8809 series (55PUS8809), which is the first 4K UHD (ultra high-definition) TV to run Google's Android operating system, providing access to Google Play and all the apps and games available there, and featuring Philips' famous Ambilight technology to make your viewing all the more enjoyable.
Sounds great, but the bad news is that there's no sign of a UK release yet – though Philips assures us that "discussions are ongoing" with UK retailers, we can't say when the 8809 might go on sale here.
So that leaves British consumers with the next best option – Philips 7809 4K model, which will come available in 42, 49 and 55 inches when it goes on sale this June. Unfortunately the Philips 42PUS7809, 49PUS7809 and 55PUS7809 don't appear to be running on Android, and this means buyers won't have access to Google Play's library of games, but on the plus side it does have just about everything else you could want from a 4K telly. This includes a sleek and sexy, frameless, ultra-slim design, together with the aforementioned Ambilight technology with new 'gaming mode', and 3D support.
Other features worthy of note include Philips' Ultra Resolution upscaling feature that allows almost any content to be viewed in 4K resolution, access to online video rental, video-on-demand, catch-up TV and hundreds of handy apps.
Perhaps the best thing though (we wait with baited breath), will be the price. Whilst Philips hasn't yet announced any pricing details for its 2014 range, we're pretty sure there's a reason behind its decision to downsize this year – and that's most likely something to do with the fact that hardly anyone can afford a 4K TV at the moment. As such, it makes sense that Philip's smaller screen strategy will be complemented by affordable prices, though we'll have to wait a while longer to be sure.