It has been quite some time since we last tested a HDTV from Philips, who has developed some truly unique (some may say quirky) picture-enhancing technologies such as their famous Ambilight bias lighting system. So when we were kindly offered a review sample of the 32PFL8404H from Direct TVs' stock of Philips TVs, we simply couldn't pass up the chance.

Note: The specific model we reviewed was the Philips 32PFL8404H/12, which may also be sold as Philips 32PFL8404 or Philips 32PFL8404H by retailers such as John Lewis, Comet, Currys, Amazon or Dixons. These terms may be used interchangeably throughout this article to refer to the same model.
Design
The LCD screen of the Philips 32PFL8404H is framed by a relatively thin, glossy black bezel which sports elegantly curved corners, and is fringed by an outer strip of translucent plastic. While understated, these refined lines still give the Philips 32PFL8404H flat-screen LCD television an undeniably stylish appearance.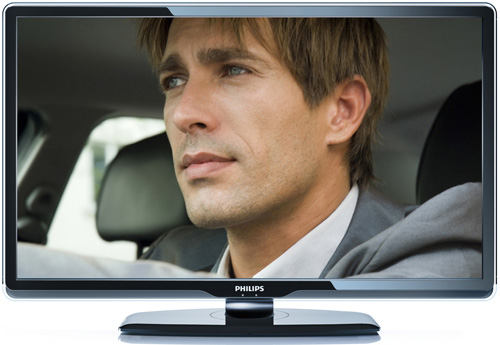 Turning our attention to the rear, a pair of light panels (which constitutes Philips' trademark Ambilight technology) is embedded at the sides of the panel. The Philips 32PFL8404H comes with a swivelling pedestal stand that is packaged separately inside the shipping box.
Connections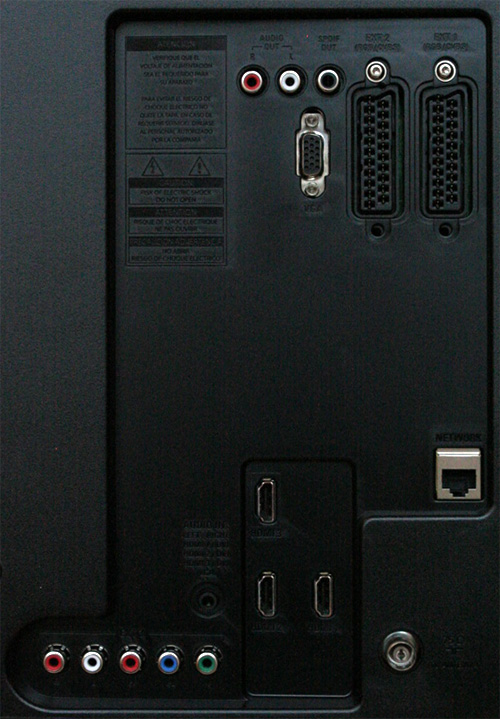 Rear: 3 x HDMI, VGA, component, 2 x Scarts, aerial, LAN, digital & analogue audio outs
| | |
| --- | --- |
| | |
| Side: HDMI, USB, CI slot, headphone, Svideo, comp | Panel buttons & Ambilight |
Operation
Pressing the [Home] button on the remote control summons a 3-column array of large icons which allow you to access your connected devices, and most importantly adjust the TV's picture settings.
| | |
| --- | --- |
| | |
| Main menu | Setup menu |
After selecting the [Setup] icon, you are presented with a cascading on-screen user menu that can be a touch sluggish to navigate at times. Perhaps more of an issue is how the user menu occupies the entire screen for the most parts (though some parameters obscure only half the screen), making it somewhat difficult to tweak certain elements that require measuring/ eyeballing the underlying picture.
The Philips 32PFL8404H offers 5 picture presets: "Vivid", "Natural", "Cinema", "Game" and "Standard". Adjusting any of the options would save the values into the "Personal" settings for that particular input; selecting any of the 5 picture presets again would erase your settings, and reset them to the select preset.
[Picture] submenu
Located under the [Picture] > [Pixel Precise HD] submenu are a host of picture processing options, though most of these should be disabled during critical viewing. [HD Natural Motion] interpolates frames to reduce film-based judder, therefore making movies look like video. [100Hz Clear LCD] (which is greyed out unless [HD Natural Motion] is engaged) reduces motion blurring through scanning backlight and possibly frame interpolation.
[PC Mode] in the [Picture] submenu of the Philips 32PFL8404H LCD TV is the equivalent of [Game Mode] on other televisions: engaging it would reduce input lag (particularly important for reflex-dependent video games) by doing away with any superfluous video processing.
[Custom Tint] submenu
The [Custom Tint] submenu on the Philips 32PFL8404H HDTV allows you to tweak the white balance for greyscale calibration, although the option to set blue bias/ cut remains absent (just like previous Philips HDTVs we've tested to date). You start off by selecting one of the "Normal", "Warm" or "Cool" presets to give you the base values, and then take it from there. Be careful: accidentally navigating to the presets again would erase your current settings, and restore them to the original base values.
[Ambilight] submenu
By default the Ambilight on the Philips 32PFL8404H changes colour and intensity according to the on-screen content, but the [Custom Colour] option under the [Ambilight] submenu lets you maintain the colour and brightness at a constant level as per SMPTE's recommendations on ambient lighting. The [Palette] and [Saturation] options affect the Ambilight's hue and saturation respectively (and so can be used to bring the Ambilight's colour closer to 6500K grey), whereas the [Brightness] option allows you to adjust the level to within 10% of the on-screen peak-white for optimal viewing.
Calibration
Greyscale
Out of the box, [Cinema] mode – with its default [Tint] setting of "Warm" – yielded the greyscale closest to D65 industry standard on the Philips 32PFL8404H:

Pre-calibration CCT in [Cinema] mode & "Warm" [Tint]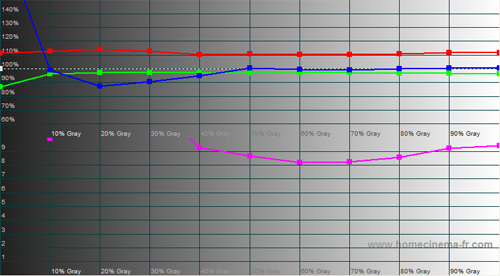 Pre-calibration RGB tracking & delta errors
Using the white balance controls (minus blue bias) in the [Custom Tint] submenu, we calibrated the greyscale on the Philips 32PFL8404H LCD television:

Post-calibration CCT with [Custom Tint]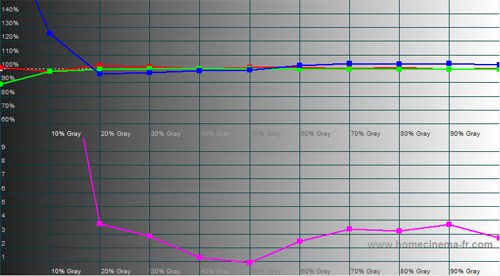 Post-calibration RGB tracking & delta errors
A satisfactory result was obtained, with delta errors curbed below 4 from 20% stimulus onwards.
Colour
Because the Philips 32PFL8404H is not equipped with a Colour Management System (CMS), we only have a limited number of controls at our disposal to tweak the colours on the television. [Colour] affects the saturation and intensity for all colours; [Hue] is greyed out for non-NTSC source; and [Colour Enhancement] alters the colour gamut slightly by skewing green towards blue.
| | |
| --- | --- |
| | |
| CIE chart with ref. to Rec. 709 | CIE with [Colour Enhancement] engaged |
Even without [Colour Enhancement] engaged, green primary remained slightly tilted towards blue, but by and large the primary and secondary colour points were not far off their respective reference coordinates for Rec. 709, the high-definition colour space standard. Colour decoding was very good without any discernible push.
Benchmark Test Results
| | |
| --- | --- |
| Dead pixels | None |
| Screen uniformity | Very good |
| Overscanning on HDMI | 0% with [Picture Format] set to "Unscaled" |
| Blacker than black | Passed |
| Black level | Very good (0.09 cd/m2 calibrated) |
| Black level retention | Stable if [Dyn Contrast], [Dyn Backlight] & [Light Sensor] off |
| Primary chromaticities | Green slightly skewed towards blue |
| Scaling | Above average |
| Video mode deinterlacing | Good; largely effective jaggies reduction |
| Film mode deinterlacing | Passed 3:2 in 480i (sluggish) & 1080i; failed 2:2 in 576i |
| Viewing angle | 100° |
| Motion resolution | [100Hz Clear LCD] engaged: 550; otherwise 300 |
| Digital noise reduction | Acceptable at baseline, but less effective than other HDTVs |
| Sharpness | Defeatable edge enhancement |
| 1080p/24 capability (PS3) | Accepts 1080p/24 video signal; no telecine judder |
| Input lag (rel. to Samsung F96) | On par over VGA or in [PC Mode] |
Power Consumption
| | |
| --- | --- |
| Calibrated [Personal Mode] with Ambilight | 74 watts |
| Calibrated without Ambilight | 71 watts |
| Standby | <1 watt |
Picture Performance
Black Level
This is where we found the biggest area of improvement compared to older Philips flat-screen HDTVs that we've reviewed before. Even without engaging any dynamic dimming gimmickry such as [Dynamic Contrast] or [Dynamic Backlight], calibrated black level on the Philips 32PFL8404H was measured at a very respectable 0.09 cd/m2. While not as deep as those found on the latest Samsung and Sony offerings, the blacks on the Philips 32PFL8404H LCD TV are more than adequate in furnishing depth and contrast to the image on screen (especially with the help of Ambilight which improves perceived contrast).
Motion Resolution
The highest motion resolution on the Philips 32PFL8404H HDTV was achieved when we activated [100Hz Clear LCD], reaching about 550 according to our reference test pattern (Chapter 31 of the "FPD Benchmark Software For Professional"). Disabling [100Hz Clear LCD] would drop motion resolution to 300 which is the level expected from a vanilla LCD panel.
Standard Definition
To be honest, after witnessing the standard-def masterclass served up by the latest Samsungs, all else looked a bit ordinary really. Nevertheless, thanks to some decent video processing and image contrast, SD programmes were still quite watchable on the Philips 32PFL8404H LCD television.
For video-based material, the Philips 32PFL8404H cleaned up jaggies effectively (as judged from the rotating wheel, bouncing bars and waving flag HQV Benchmark test patterns). For film-based content, the Philips 32PFL8404H successfully detected 3:2 cadence over 480i (albeit sluggishly), but failed to lock onto 2:2 cadence over 576i most of the time. Scaling/ upconversion was above average, but nothing spectacular. And whilst still largely acceptable, the 32PFL8404H's noise reduction algorithm wasn't as effective as other TVs in removing crawling noise from low-quality images.
Note: These SD processing findings hold true with [PC Mode] engaged as well.
High Definition
HD images looked lush and convincing on the Philips 32PFL8404H HDTV, thanks to respectable black-level performance, calibrated near-D65 greyscale and well-saturated colour palette. And although we still question the practicality of fitting 1920×1080 pixels on a 32-inch screen (because theoretically our human eyes would find it difficult to differentiate between a full HD resolution and a HD-ready resolution of 1366×768 on this screen size), the end result is an exquisitely sharp and alluringly seamless picture.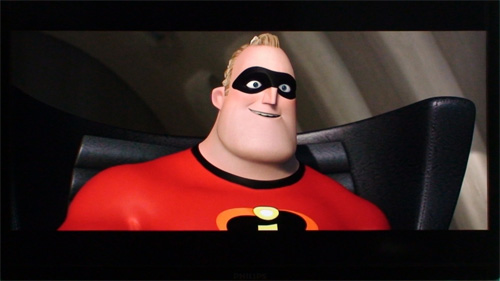 Engaging [HD Natural Motion] – even at its "Minimum" setting – would cause 24p movies to look like camcorder-shot videos. This is a real shame, because if you want to avoid this undesirable (to our eyes anyway) video-like effect, then you wouldn't be able to take advantage of the higher motion resolution provided by [100Hz Clear LCD] (which is greyed out unless [HD Natural Motion] is enabled).
Of course, video-based content, for example fast-action sports, benefited immensely from [100Hz Clear LCD]. When watching the live FA Cup football broadcast on ITV HD, the running players and the moving ball simply held their definition and clarity better with [100Hz Clear LCD] engaged, made all the more impressive by the absence of any significant interpolation artefacts.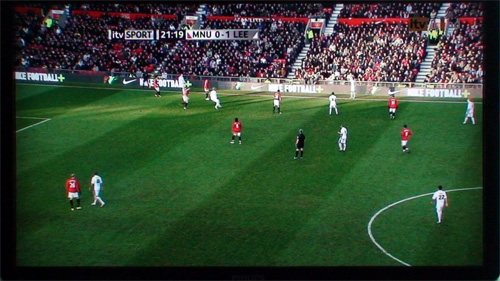 Curiously, the Philips 32PFL8404H exhibited some patches of strobing within the single-pixel height stripped regions in both the "HD Video Resolution Loss Test" and "Film Resolution Loss Test" on HD HQV Benchmark disc, indicating a slight loss of resolution (though it's debatable whether this can be appreciated on a 32-inch screen). Enabling [PC Mode] immediately cleared up these patches of strobing, suggesting that the culprit was one of the video processing elements are disabled by [PC Mode].
Engaging [PC Mode] closed off access to [HD Natural Motion] and [100Hz Clear LCD], but surprisingly the Philips 32PFL8404H HDTV was still able to handle 1080p/24 video signals properly without any hint of telecine judder. We therefore recommend using [PC Mode] for all viewing bar video-based material that would benefit from [100Hz Clear LCD] such as sport programmes.
HD Console Gaming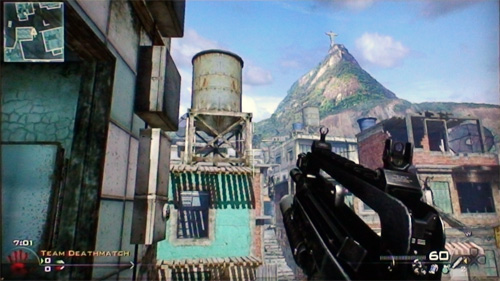 With [PC Mode] engaged, input lag on the Philips 32PFL8404H was measured to be on par with our resident Samsung F96 LED-backlit LCD TV, which was perfectly fine for high-def console gaming. Disabling [PC Mode] and turning on various picture-processing options (in particular [HD Natural Motion]) would bump up input lag significantly (up to 200ms vs. the F96), making reflex-dependent video games such as Modern Warfare 2 nigh-on unplayable.
Note: Our resident Samsung LE52F96BD with [Game Mode] engaged has about 30ms of latent input lag vs a CRT.
Conclusion
The Philips 32PFL8404H LCD HDTV represents a vast improvement over other Philips flat-screen TV we've tested previously, not least because of its deeper blacks and reduced input lag in [PC Mode]. While relatively expensive, the 32PFL8404H offers sufficiently good picture quality – not to mention an Ambilight bias lighting system that is unique to Philips – that should appeal to viewers looking for a viable alternative to the swarm of Samsungs and Sonys out there.