Philips/ TP Vision has this month announced the UK launch of its new PDL8908 "DesignLine" LED TV range, which we originally spotted and were immediately taken by at this year's Consumer Electronics Show (CES) in Las Vegas back in January. Two screen sizes will be available, namely the 46-inch Philips 46PDL8908S/12 and the 55-inch 55PDL8908S/12.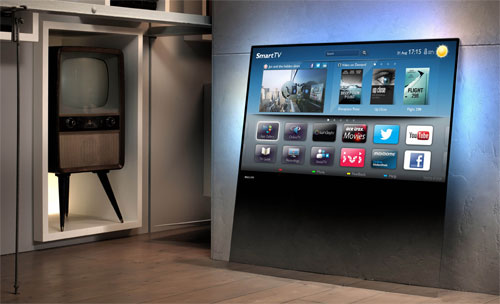 Philips 46PDL8908 & 55PDL8908 DesignLine LED TVs launched
A bold departure from traditional television designs, the 46PDL8908 and 55PDL8908 feature a large, transparent area which appears to act as a stand, with Philips promising a "top-class LCD screen" behind the single front sheet of glass, which has a "stippled" gradient pattern. The design is reminiscent of other high-end European brands, although this is the first time we've seen transparent materials used in such a stunning way. Just to make the design evolution point clear, one of Philips' promotional images shows the new PDL8908 series sitting against a wall (illuminated by 3-sided Ambilight XL system, naturally) while other TV designs of years gone by look on.
Picture quality is said to be uncompromised, with Philips touting Micro Dimming and Local Contrast technologies on board, not to mention the company's Pixel Perfect HD video processing engine which is on this occasion driven by a dual-core processor. Meanwhile, the "Perfect Motion Rate" is rated at 1400hz (achieved via motion interpolation, if the rest of their HDTV lineup is anything to go by).
Other features include "3D Max" active-shutter 3D technology, as well as integrated wireless connectivity with support for Philips MyRemote app, WiFi Miracast and SimplyShare. The supplied remote control is blessed with a build-in keyboard and pointing functionality to allow for a better, more intuitive Smart TV experience.
Philips/ TPV also showed us an Apple-esque video which demonstrates the design process. Feast your eyes…
The Philips 46PDL8908S and 55PDL8908S will hit UK stores around June 2013, priced at £2000 and £2800 respectively.