Philips has unveiled its 2011 lineup of HDTV displays at the company's annual product launch event in Barcelona today. In addition to active-shutter models, the Dutch conglomerate is going to offer passive 3D TV sets for the first time, following in the footsteps of Korean TV maker LG Electronics who unleashed its 3D LCD TVs equipped with FPR (film-type patterned retarder) technology on the unsuspecting television industry late last year.
Sporting what the company calls the "Easy 3D" technology, these Philips passive 3D televisions allow viewers to use polarized 3D glasses which are typically cheaper, lighter and more comfortable to wear than their active-shutter counterparts. These Easy 3D models are also meant to provide the "most comfortable" 3D viewing experience, presumably as a result of reduced flicker which lessens eye strain and fatigue.
Philips 50PFL7956 / Cinema 21:9 Gold Series
The passive "Easy 3D" display technology will be implemented on two lines of Philips 3DTVs. The first is the Cinema 21:9 Gold series, reaffirming the Amsterdam-based manufacturer's commitment to continue making HDTVs with CinemaScope ultra-widescreen aspect ratio. Also known by its model number of 50PFL7956K/02, the 50-inch 21:9 3D TV will be equipped with edge LED backlight, 100Hz Clear LCD motion, Ambilight Spectra 2 bias lighting (on both sides of the flat-screen television) technology, and also the company's new "Smart TV" internet-connected platform.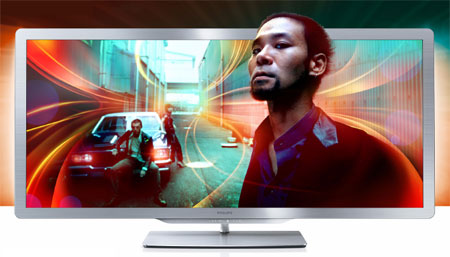 Besides its native 3D capabilities, the Philips 50PFL7956 can also perform 2D-to-3D conversion on the fly, and be used for two-player full-screen gaming (i.e. each player will be able to utilise the entire screen real estate to play a 2D game simultaneously by wearing the polarized glasses). Other features include Pixel Precise HD video processing engine, integrated wifi connectivity, USB recording and Multi-view (essentially picture-and-picture/PaP and picture-in-picture/PiP) functionalities.
42PFL7606 / 7606 Series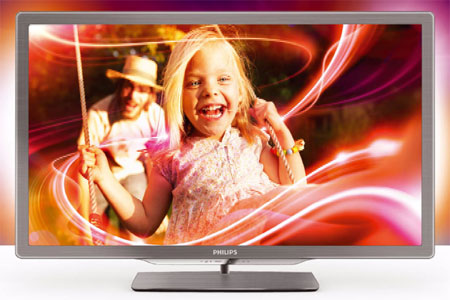 The other range of Philips LED TV to boast the passive "Easy 3D" technology is the 7606 series blessed with edge LED backlighting, Ambilight Spectra 2, 100Hz Clear LCD, Pixel Precise HD engine and Smart TV portal. Five screen sizes are available: the 32-inch 32PFL7606, the 37-inch 37PFL7606, the 42-inch 42PFL7606, the 47-inch 47PFL7606 and the 55-inch 55PFL7606. UK pricing and release dates remain unknown at this point of writing.