Since securing a majority stake in Philips' television business 2 years ago, TP Vision has launched an all-out assault on the European market with the intention of restoring the world-renowned TV brand to its rightful lustre, which is reflected by the fact that the 55PFL8008 we're testing today is the third high-end HDTV we've received from the company for review in 2013 alone!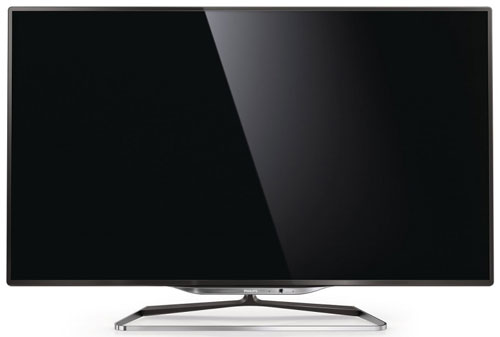 The latest iteration of the Philips 8000 series is the manufacturer's top-end full HD 1080p television for 2013, with the step-up 9000 series being a 4K Ultra HD model (an award-winning one out of the gate no less) this year. Two screen sizes are available: the 46-inch Philips 46PFL8008 and the 55-inch 55PFL8008S/12 which is the subject of this review.
Packing edge LED backlight technology, the firm's "Perfect Pixel HD" video processing engine, inbuilt Freeview HD tuner, active-shutter 3D capability, integrated WiFi connectivity, Smart TV functionality, and of course not forgetting the Ambilight bias lighting system into one sleek set, is the Philips 55PFL8008 one of the top LED TVs money can buy? Let's find out.
Design
Make no mistake, the 8008 looks the part as a premium display. An understated gunmetal grey bezel with rounded corners surrounds the semi-reflective LCD screen, which is narrow enough to create a much sought-after "suspended in air" effect in conjunction with the airy open-frame table-top stand that is swivel-capable. A lip-shaped accessory hangs from the bottom of the panel, housing an LED indicator, infrared receiver, light sensor, a camera (which can be covered for security purposes), and the Philips logo.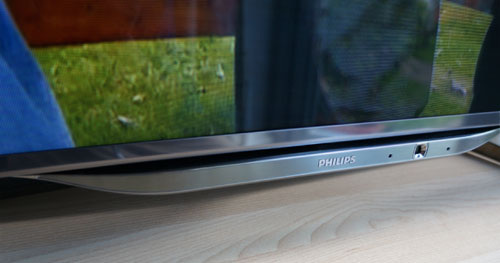 Due to the use of edge-lit LEDs, the chassis is impressively slim, though its rear widens slightly at the bottom to accommodate a pair of speaker units which provides surprisingly good sound quality for a flat-screen TV. The plastic enclosure around the back does detract from the opulent feel a tad, but then we don't watch a television from behind – the 55PFL8008S wouldn't look out of place even in the most luxurious of living rooms.
Connections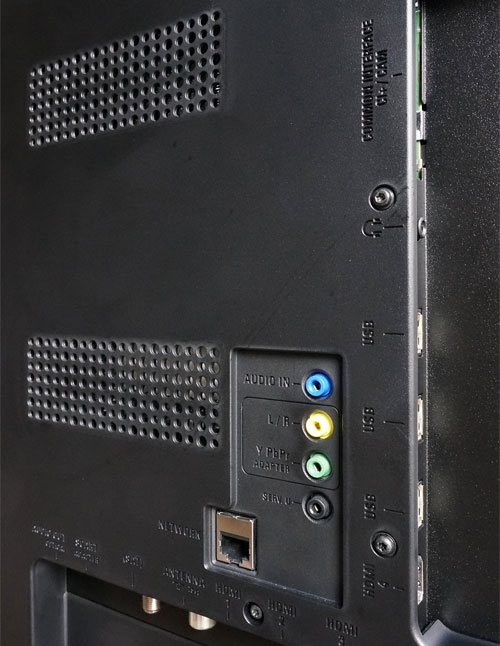 Rear: 4x HDMI, 3x USB, component, SCART, aerial, satellite, LAN & audio outs
Remote Control
The clicker supplied with the 55PFL8008 strikes all the right notes in terms of design, ergonomics and build quality. Its solid weight gives a lush feel when held in the hand, yet is not overly heavy or large to make it unwieldy. Tactile feedback is superb, though any channel surfing or menu navigation would be that bit better if the TV's responsiveness (especially when it comes to the onboard Freeview HD EPG) is improved.

The other side of the remote contains a QWERTY keyboard, a wonderful addition which really makes a positive difference to your web browsing experience whenever typing is required (for example entering URLs or passwords). The remote even features a built-in gyroscope sensor which automatically disables the buttons on the side facing down to avoid erroneous key presses. Ingenious.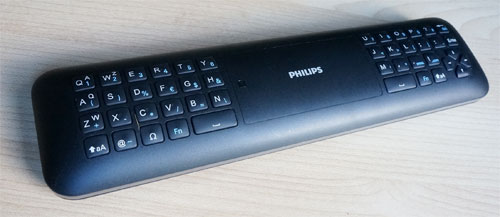 The remote control is not backlit, but can be used like a mouse pointer a la LG's Magic Remote, elevating our Smart TV experience by more than a few notches without the need for a secondary remote that's all the rage among top-tier TV brands these days.
Calibration
Note: Our Philips 55PFL8008S/12 review sample was calibrated using CalMAN 5, the industry-leading video calibration software.
Among the numerous picture presets available on the 55in Philips 8008 series, three are reasonably accurate relative to the Rec.709 HDTV standard with D65 white point, namely [Movie] plus the two ISF-endorsed modes [ISF Day] and [ISF Night]. For no particular reason, we went with [Movie] mode for our out-of-the-box measurements.
Greyscale
Engaging [Movie] mode on the 55PFL8008S/12 yielded one of the more accurate greyscale results we've seen out of the box among all the HDTVs we've reviewed this year, though the on-screen images still looked slightly too warm due to predominance of red component: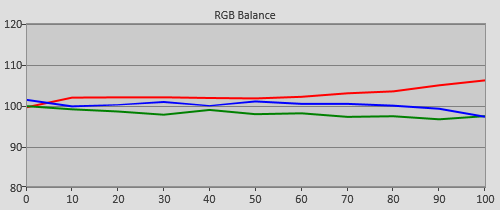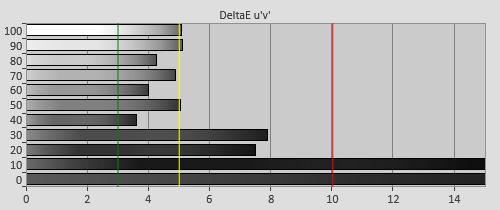 Pre-calibration RGB tracking and delta errors (dEs)
While a two-point white balance system is provided on the 55PFL8008 for greyscale calibration, Philips could have implemented a less convoluted method to access the controls especially for those who are not well-versed with the company's menu layout. For starters, we needed a fair few button presses on our remote to reach the [Setup] > [TV Settings] submenu where most of the picture-affecting options are found. The subsequent steps are:
Navigate to [ISF expert settings] for the [ISF] modes, or [Advanced] submenu for non-ISF presets;
Set [Colour Temperature] to "Custom";
Go into the [Custom Colour Temperature] submenu which is now unlocked;
Press the [Right] key on the remote six times to select the underlying colour temperature ("Warm" is the most accurate) upon which any WB adjustments will be based; and finally
Adjust the RGB gain and bias controls which are confusingly labelled as RGB [WP] and [BL] respectively.
From there on, things got much easier, requiring only a few more clicks to achieve very good greyscale accuracy. The fact that the adjustment sliders are programmed to stay out of the way for a reasonable amount of time before interfering with our measurements taken from the centre of the screen helped immensely too, so very well done to Philips.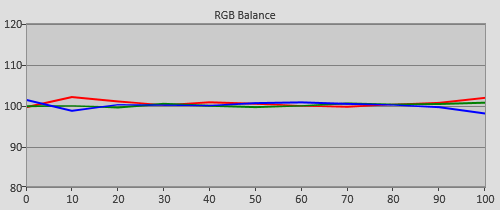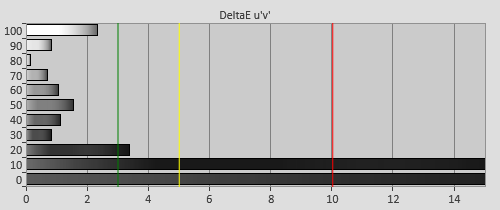 Post-calibration RGB tracking and dEs in [ISF Night] mode
Delta errors (dEs) were reduced to below 3 (generally accepted as the visible limit for the human eye) from 30% stimulus and up. There remained a red tinge in shadowed areas, which can probably only be sorted out by more precise 10-point white balance controls that Philips had not included on the 8008 series. Top-end RGB balance was also beginning to fray – this can be ironed out by dialling down [Contrast], but because dE was still under 3, and we preferred to maximise dynamic range, we left it be.
Gamma
Last year's (or should that be last season's, since the 8007 and 9707 were only released in late 2012) high-end Philips HDTV models suffered from milky gamma out of the box, but fortunately this issue was not present on the 55PFL8008S. In [Movie] mode, before we did any changes to the picture settings, overall gamma measured 2.3 which is good enough to produce contrast-rich images under most ambient light conditions.
| | |
| --- | --- |
| | |
| Pre-calibration gamma tracking (2.3) | Post-calibration gamma tracking (2.38) |
But because we are faithful disciples of 2.4 gamma (which is the reference electro-optical transfer function recommended by the ITU for HD flat-panel displays used in dark-room studio mastering) as long as the TV is capable, we bumped [Gamma] up to "1" for an even richer viewing experience.
Colour
The Philips 55PFL8008 comes with a bi-axis colour management system (CMS) found under the [Colour control] submenu, allowing for finetuning of [Hue] and [Saturation], though the latter affects colour brightness/decoding more than its namesake.
After some gentle tweaking, making sure that we did not ignore the sub-100% saturation tracking points which in our opinion are as important as the outer gamut, we obtained an excellent result: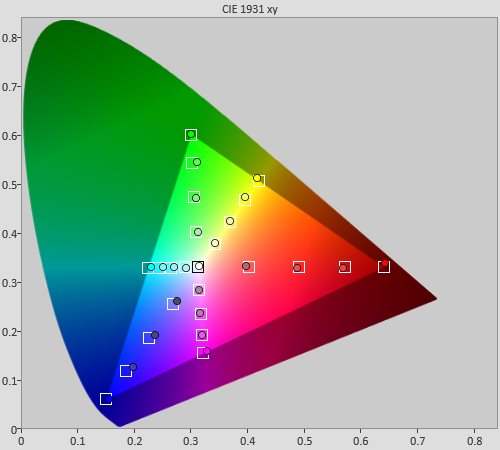 Post-calibration colour saturation tracking in [ISF Night] mode
Delta errors (with colour decoding taken into account) were below 3 across the board, with the small exception of 100% red which just barely crept over the dE 3 threshold.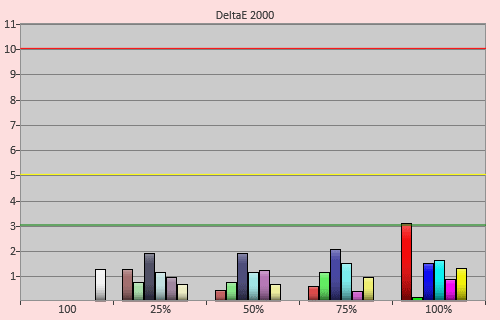 Post-calibration colour errors (<3 not appreciable to the eye)
Benchmark Test Results
| | |
| --- | --- |
| Dead pixels | None |
| Screen uniformity | Very good for an edge LED TV |
| Overscanning on HDMI | 0% with [Picture Format] set to "Unscaled" |
| Blacker than black | Passed |
| Calibrated black level (black screen) | 0.047 cd/m2 |
| Calibrated black level (ANSI checkerboard) | 0.047 cd/m2 |
| Black level retention | Stable with [Dynamic backlight] "Off" |
| Primary chromaticity | Excellent |
| Scaling | Very good, though with a smidgen more ringing |
| Video mode deinterlacing | Good jaggies suppression |
| Film mode deinterlacing | Failed 2:2 cadence over 576i, & 3:2 over 1080i |
| Viewing angle | Decent for VA LCD panel |
| Motion resolution | 300, increases to 900 with motion interpolation on |
| Digital noise reduction | Optional |
| Sharpness | Very mild edge enhancement except in [Game] & [Computer] modes |
| Luma/Chroma bandwidth (2D Blu-ray) | Full luma; chroma horizontally blurred except in [Game] & [Computer] modes |
| 1080p/24 capability | No judder in 2D, mild judder in 3D |
| Input lag (high-speed camera) | 46ms |
| Leo Bodnar input lag tester | 50ms |
| Full 4:4:4 reproduction (PC) | No, 4:4:4 input subsampled |
Power Consumption
| | |
| --- | --- |
| Out-of-the-box [Standard] mode | 57 watts* |
| Calibrated [ISF Night] mode | 78 watts |
| Standby | 1 watt |
Note: Out of the box, [Light sensor] is enabled by default in [Standard] mode, which explains why energy usage was lower pre-calibration than post-calibration.
Picture Quality
The 55PFL8008S/12 delivers a deep shade of blacks by LED LCD standards, thanks to the onboard VA-type panel. Granted it's no plasma, but with a measured black level of 0.047 cd/m2 (both on a full-field video black and 4×4 ANSI checkerboard pattern) after pegging peak luminance to our usual target of 120 cd/m2 for critical viewing in a dimly-lit environment, Philips' latest 8000 series comfortably matched the contrast performance of this year's top-ranked LED TVs like the Samsung F8000 and Sony W9.
Interestingly, the Philips 8008 is one of the rare LED-lit LCD televisions which do not dim their backlight when asked to display a full black screen, as long as you make sure [Dynamic backlight] is switched off. And there's really no need for any auto-dimming trickery, because once we toned down [Backlight contrast] in keeping with our 120 cd/m2 peak white target, the 55PFL8008 exhibited extremely good backlight uniformity for an edge LED TV, with only the mildest hint of brightening along the sides, which is pretty much unavoidable on a 55″ LCD panel especially a VA one.
Like all LCD-based displays we've tested without any help from motion-compensated frame interpolation (MCFI) technology, the 55in 8008's native motion resolution came in at 300 lines as determined by the horizontally scrolling test sequence in Chapter 31 of the FPD Benchmark Software disc. This can be boosted to around 900 lines by engaging BOTH [Clear LCD] and [Perfect Natural Motion] – enabling one without the other will not bring about any improvement in motion resolution.
Whilst [Clear LCD] is an on/off toggle (we saw no reason not to leave it on all the time), [Perfect Natural Motion] comes in three strengths: "Minimum", "Medium" and "Maximum". Based on our observations, going up the intensity ladder did not improve motion resolution beyond 900 lines, but only increased the frequency of interpolation artefacts. If you have to engage [Perfect Natural Motion], "Minimum" is sufficient. Unfortunately this lowest setting still introduced unmistakable soap opera effect into 24p material like Blu-ray movies and US dramas, and so we would limit the use of [Perfect Natural Motion] to only video-based content such as sports programmes.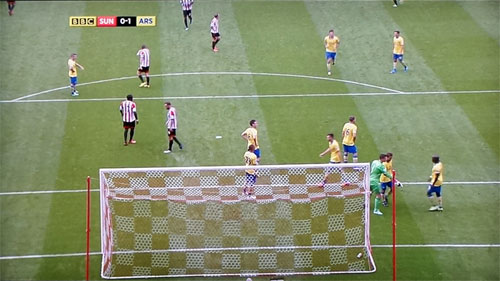 We spun a few of our favourite Blu-ray discs, and was extremely impressed with the HD picture quality on the Philips 55PFL8008, owing to its convincing black-level response, accurate post-calibrated greyscale and colours, not to mention 2.4 gamma which showered every type of content with the sort of velvety, eye-popping richness that's just not replicable on lesser displays.
Our review sample applied a tiny amount of edge enhancement to even 1:1 pixel-mapped 1920×1080 material even with [Sharpness] set to "0" and [Advanced sharpness] disabled, which is perhaps unsurprising given Philips' fondness for picture processing. This may give the spurious impression that the 55PFL8008S is more detailed than competing HDTVs, though we are of the opinion that good 1080p source looks detailed enough as it is and doesn't require additional sharpening. This undefeatable edge enhancement was not present in the [Game] or [Computer] modes which do not seem to have many ill effects – we actually gave serious consideration to calibrating and watching in these modes for their cleaner look, but ultimately decided against it once we found out colour decoding was awry for non-PC content.
Moving onto the increasingly less important domain of standard definition, the Philips 8008 behaved very similarly to its predecessor the 8007, in that it did some things well and some things not so well. SD images were upscaled crisply with full detail capture, though we spotted a smidgen more ringing than flagship HDTVs from rival television manufacturers. Video-based deinterlacing was very good too, with most jagged edges being suppressed effectively in both test patterns and real-world material.
It's when it came to standard-def PAL film-based content that the 55PFL8008 stumbled – the TV completely failed to detect 2:2 cadence, which means that 576i over-the-air broadcast of movies will be affected by jaggies and resolution loss. Furthermore, the processor would occasionally misapply film motion to video-based content from the inbuilt digital tuner, resulting in visible stutter (most obvious on news channels with scrolling ticker, for example BBC News). Fortunately both issues can be circumvented by sending a progressive video signal to the television, i.e. let a competent external device (e.g. Blu-ray/DVD player or set-top box) handle the deinterlacing process.
The Philips 55PFL8008S/12 uses active 3D technology, and ships with two pairs of fairly chunky active-shutter 3D glasses. We had a blast watching various tri-dimensional material on the set: images were bright, colourful, full-res, and largely devoid of crosstalk; there was also less flicker from the shuttering lenses compared to certain active 3D makes (such as Panasonic and Sony). Because of its 60Hz-centric design, panning shots in 3D 24fps (e.g. 3D Blu-ray) and particularly side-by-side 50Hz from Sky 3D betrayed some judder which can be smoothened by engaging [Perfect Natural Motion], though this will introduce unwanted soap opera effect to 3D films.
A review of a Philips HDTV would be incomplete without touching upon Ambilight, the company's integrated bias lighting solution. The version implemented on the 55PFL8008 is the three-sided Ambilight XL where LED bulbs are arranged along the top and the sides at the back of the panel, casting a comforting glow BEHIND the television, which works very well in reducing eye fatigue and boosting perceived contrast when watching the TV in dark rooms. While it's possible to set the Ambilight system to dynamically adjust its colour and intensity based on the on-screen content, we suggest that you use the [ISF Warm White] option, and drop [Brightness] to "2" – this brings the Ambilight's colour close to D65, and luminance to 10% of peak white as recommended by SMPTE. In this configuration, enabling [Ambilight] only added 2 watts on top of the 8008's usual power consumption, which will surely please green-minded owners out there.
Conclusion
One could be forgiven for thinking that the Philips 55PFL8008S/12 is simply a reskin of last year's 8007 series, given the many similarities between the two in terms of image quality down to the SD processing quirks. Nevertheless, there's at least one substantial improvement on the 8008 over its predecessor: out-of-the-box gamma is now satisfyingly rich rather than washed-out, contributing heavily to a more immersive viewing experience.
Prior to the publication of this review, Philips sent word that the RRP (recommended retail price) of the 55PFL8008 has been reduced from £2499 to £1999, which makes the TV even better value for money. Sure, we wished the company had done away with forced edge enhancement however minute; and provided a functional 2:2 cadence detection mode for those of us in PAL land. Also, its Smart TV platform was sluggish and content-sparse (no LoveFilm, ITV Player, 4oD or Demand 5) compared with its peers.
But to penalise the 55PFL8008S for these minor shortcomings is to miss the forest for the trees, because its HD picture quality is comfortably the equal of this year's best LED TVs, thanks to excellent contrast performance and supremely accurate colours. Add a brilliantly designed remote with integrated QWERTY keyboard and Wiimote-like pointer, impressive audio, as well as Ambilight – a Philips exclusive – to the mix, and this HDTV is a must audition for buyers looking for a strong alternative to the throngs of Samsung and Sony LED LCDs on the market.