Philips, the Dutch conglomerate which among other things manufactures television sets, has launched the 58PFL9955H, a 3D addition to its Cinema 21:9 series of HDTVs.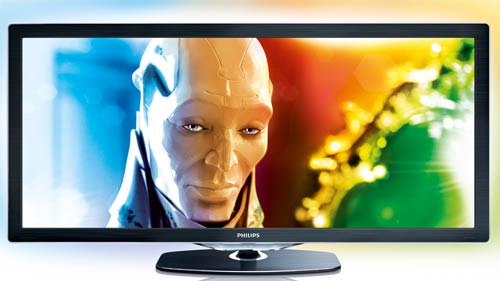 First unveiled at the IFA 2010 consumer electronics trade show in Berlin back in September, the Philips 58PFL9955H is the successor to last year's 56PFL9954H which was then billed as the world's first 21:9 HDTV capable of showing 2.35:1 films in their native aspect ratio, allowing viewers to enjoy such movies in full-screen glory without top and bottom black letterbox bars.

The most notable upgrade on the Philips 58PFL9955H over the outgoing Philips 56PFL9954H is 3D capability. Blessed with an integrated 3D transmitter, the Philips 58PFL9955 employs active shutter 3D technology which requires viewers to wear compatible 3D glasses (not included with the TV) in order to watch 3D content. Given the hype over 3D TVs throughout 2010, Philips saw fit to crown the 58PFL9955H with an updated "Philips Cinema 21:9 Platinum" moniker.
The Philips 58PFL9955H 3D TV features a 58-inch LCD screen with 21:9 aspect ratio. The panel is illuminated by an array of 2000 LEDs using Philips' LED Pro local-dimming backlight technology, producing a claimed contrast ratio of 10 million to 1. To counteract the darkening effects of 3D glasses, Philips also implemented a Bright Pro system on the 58PFL9955 to deliver sufficiently bright images both in 2D and 3D.
The faster the pixel response or the higher the motion resolution, the less the crosstalk that ensues in 3D viewing. Towards this end, the Philips 58PFL9955H 3D LED TV boasts a 400Hz Clear LCD technology which in actual fact is simply 200Hz MCFI (motion-compensated frame interpolation) combined with scanning backlight. Regardless, 400Hz Clear LCD should contribute to reduced motion blur even when watching 2D content on the Philips 58PFL9955.
No high-end Philips HDTV is complete without the company's patented Ambilight bias lighting technology to improve perceived contrast and minimise eye fatigue, and the Philips 58PFL9955H is no different. The version installed on the Philips 58PFL9955 is Ambilight Spectra 3 which provides ambient glow from three sides (top, left and right) of the TV screen.
Other features on the Philips 58PFL9955H include built-in wireless/ wifi connectivity, DLNA compatibility, Philips Net TV web application platform, as well as an Opera-based internet browser that offers open access to most websites. However, as is the case with all of the company's 2010 HDTV models, there is no integrated Freeview HD tuner on the Philips 58PFL9955.
The Philips 58PFL9955H Cinema 21:9 Platinum 3D TV is scheduled to hit UK shops later this month at a suggested retail price of £3,999. To watch 3D material on the Philips 58PFL9955, owners will need to spend £99 extra for each pair of Philips PTA03/00 active 3D glasses.