TP Vision has unveiled its second Philips-branded OLED TV at a launch event in Madrid this week, following on from the critically-acclaimed 901F series launched late last year.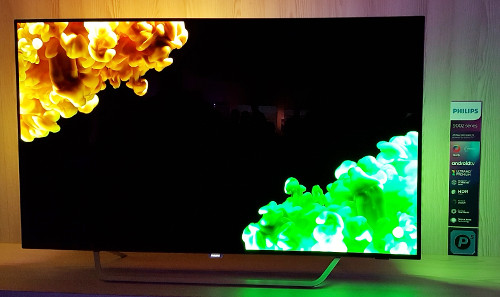 Like the 55POS901F, the Philips 9002 will come in one screen size of 55 inches (model number 55POS9002), and will feature native 3840×2160 UHD (ultra high-definition) resolution, new P5 picture processing engine, support for both HDR10 and HLG (Hybrid Log-Gamma) formats (but not Dolby Vision), three-sided Ambilight, and the latest M version of Android Smart TV system.
TP Vision/ Philips says that the P5 picture processing engine boosts the inherent qualities of OLED – namely true blacks, vibrant colours and wide viewing angles – by providing 25% new processing features and 25% more processing power. While we're not fully convinced by the overall maths, the cofmpany is claiming that this will result in an overall performance improvement of 50% in the key image quality areas of source correction, sharpness, colour and contrast when compared with the awrad-winning Pixel Precise Ultra HD Engine.
In terms of HDR (high dynamic range) performance, the Philips POS9002 has been specced to deliver a peak brightness of 750 nits and a DCI-P3 coverage of 99%. Given these specifications, it will come as no surprise then that the OLED television will be UHD Premium-certified.
Design-wise, the Philips 55POS9002 won't carry a bottom-mounted integrated soundbar (unlike its 55POS901F sibling), so hopefully this will result in a more affordable price. Nevertheless, sound quality will be kept up by the inclusion of Philips' patented and powerful triple-ring technology and DTS HD Premium Sounds compatibility. We're also pleased to see the brand go with a open-frame central stand that still gives a convincing floating look, rather than the wide feet stand implemented on the POS901F.
The Philips 9002 OLED is scheduled to arrive in the summer following Freeview Play certification. Prices remain unannounced, but we'll bring you more details as soon as we know.