TP Vision has officially launched its first Philips-branded OLED TV at the IFA 2016 consumer electronics trade show in Berlin this week, after an accidental reveal earlier in the year. The Philips 55POS901F will not only be the world's first (and only) OLED television with Ambilight, but also the company's first display to receive Ultra HD Premium certification from the UHD Alliance (UHDA).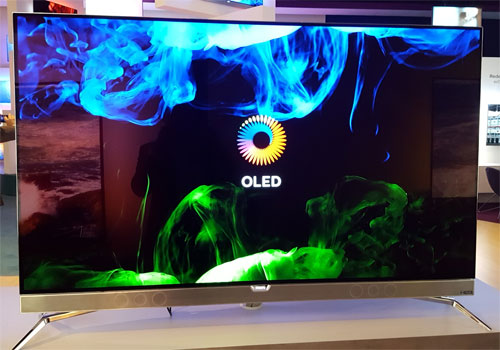 The Philips 901F will come in one screen size of 55 inches, using a flat WRGB OLED panel sourced from LG Display. Danny Tack, the brand's video guru, quoted a peak brightness of 540 nits at D65, and a DCI-P3 coverage of 99%, fulfilling the specifications outlined by the UHDA for UHD Premium accreditation. The 4K TV will support HDR (high dynamic range) playback, though only in HDR10 format (used by 4K Blu-ray and Netflix/ Amazon HDR streaming) and not Dolby Vision. Given TP Vision's stance on 3D, naturally there won't be 3D capability on the 55POS901.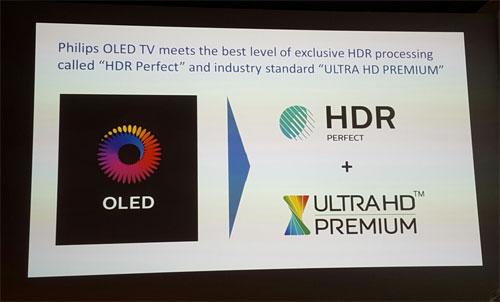 Other features include 3-sided Ambilight technology, Android Smart TV system with quad-core processor, as well as an integrated 6.1 soundbar that is not detachable. Interestingly, there's a Dolby Digital logo at the bottom right of the front-facing speaker bar, which may mislead consumers into thinking the 55in Philips 901F is Dolby Vision-capable (we certainly thought so initially!).
The spectacular blacks, colours, viewing angles and super-slim design afforded by OLED's self-illuminating display properties have been well-documented, but what piqued our interest during Tack's always-informative picture quality workshop was a newly implemented [Perfect Contrast] control that allowed owners to boost light output at the expense of introducing clipping at a lower luminance level.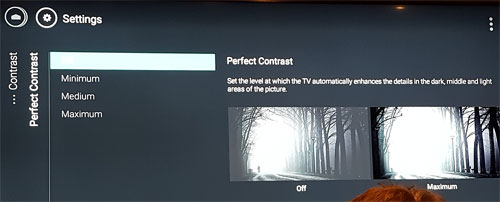 From what we saw briefly at the demo session, enabling [Perfect Contrast] modified the APL (Average Picture Level) and thus deviated from PQ (perceptual quantisation) EOTF (electro-optical transfer function), but of course we'll reserve judgement until we get our hands on a 55POS901F review sample.
The Philips POS901F will retail for £3,000 in the UK, and €3,500 in other European markets. Availability is slated for end of October this year.