Philips has enhanced the technology underlying its Ambilight bias lighting system to create a more immersive viewing experience. The feature is part of a series of updates for its 2014 TV range, offering improved colour-change response speed and contextual information via lighting. The feature will be available on all 2014 Philips Ambilight TVs, and comes with a new Ambilight app, plus an updated gaming mode that allows for faster gameplay (presumably by lowering input lag).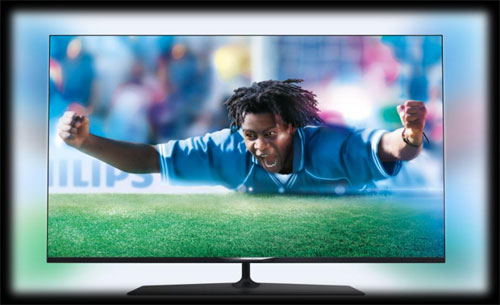 Philips has simultaneously launched a new TV advertising campaign to highlight the benefits of its new lighting feature. The "Light Waves" action sports movie features professional surfers Chippa Wilson and Damien Hobgood catching waves amid a cacophony of never-before-seen special lighting effects, illustrating how the technology can enhance viewing pleasure.
Marc Harmsen, Marketing Lead at TP Vision, commented:
"Light Waves" is a spectacular and emotional film that mirrors the power of Ambilight. It shows how adding light to something amazing can turn into something spectacular that goes far beyond the ordinary."
As for the feature itself, TP Vision claims its especially useful for gaming, action movies and music videos. Its engineers have managed to improve Ambilight's dynamics in such a way that it can follow extremely rapid scenes, allowing viewers a more immersive experience when playing adventure, racing or sports games, or when watching action movies where the on-screen picture changes more rapidly.
There's also a new 'Ambilight app' for Android and iOS that takes this experience even further. Admittedly it seems to be a bit of a gimmick, but Philips is hoping it'll appeal to footy fans in any case. By downloading the app, which is compatible with all Philips Ambilight TVs from 2011 onwards, viewers will be able to get more enjoyment from watching this summer's FIFA World Cup. The Ambilight app makes the TV illuminate the wall behind the television with the colours of the viewer's favourite team, and creates a dazzling light effect if their team scores.
Philips' 2014 Ambilight-equipped TVs including the range-topping (at least in the UK) 42PUS7809 and 55PUS7809 4K Ultra HD models will continue to make use of the +Hue integration feature as well. Present on all models, the feature has been updated to allow viewers to control each individual hue lamp in their living room from the TV's interface.