The picture quality of Philips TVs has impressed us over the past couple of years – we're particularly big fans of the company's Ambilight bias lighting system – but if there's one major Achilles' heels in the Dutch TV brand's offerings, it must be its Smart TV proposition. When we tested Philips' flagship (within the 1080p realm) 8000 series last year, we noted a lack of Smart TV apps compared to other upper-tier TV brands, as well as how sluggish and clunky the user interface was.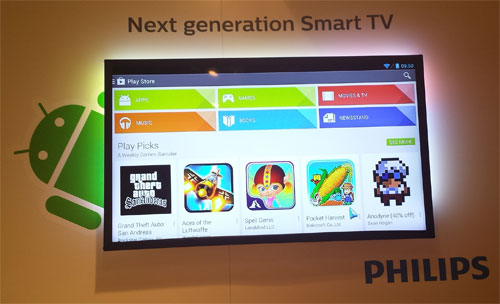 Philips has clearly taken users' feedback on board, and devised a masterstroke of a solution for its 2014 television lineup to address the aforementioned shortcomings. The manufacturer will be equipping its new high-end flat-screen televisions for the year ahead with Android operating system, instantly enriching them with the numerous applications available on the Google Play Store in one fell swoop.
These Android-powered TVs will offer access to the Google Play Store on top of Philips' own Smart TV portal, combining the best of both worlds. Viewers will get a delectable choice of Android apps including a broad selection of games from the Google Play Store, together with existing apps on Philips Smart televisions including catch-up TV services, EPG (Electronic Programme Guide), VoD (video on demand), and music streaming. Although it's Android-based, wireless content sharing through smartphones and tablets is supported on Apple iOS devices such as the iPhone and iPad too.
We were given a demonstration of an early version of the Philips Android Smart TV platform during CES 2014, and walked away very impressed indeed. Despite obviously being a work in progress (we spotted a battery and Wifi signal strength indicator on the top right corner just like what you'd see on an Android smartphone – these will be removed on the final version), the UI transitions and navigation were super-smooth and slick, helped in no small part by the onboard quad-core processor.
Paired with the company's ingenious remote control featuring traditional buttons on one side and a QWERTY keyboard on the other, Philips' revamped 2014 Android-powered platform is destined to be a star performer in the Smart TV arena, owing to significant boosts to the available content/apps and navigational responsiveness. We will bring you more updates once we learn about the specific Philips television models that will feature the Android Smart TV system.