A new sports app themed around the Euro 2012 football tournament (and later the London 2012 Olympics) has been launched on Philips Smart TV displays. The announcement was made this week by TP Vision, which is the company responsible for developing and marketing televisions bearing the famous Dutch brand.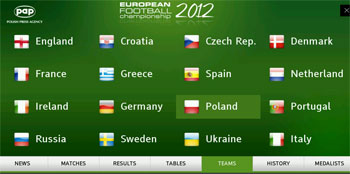 Philips launch Euro 2012 (& later Olympics) Smart TV app
The dedicated Euro app is available from now on at no extra cost to all Philips internet-connected HDTV owners, allowing them to access the most recent results, statistics, news and gossips relating to both the 2012 UEFA European Football Championship which is currently underway, as well as the upcoming Olympic Games in London.
Users can keep themselves up-to-date with the latest Euro 2012 information supplied by the Polish Press Agency – ranging from news and results to fixtures and group tables – directly on their Philips Smart TVs. Interesting facts about the Euro championship, such as the history, the stadiums, the footballing countries and their star players, are also accessible through the Philips Smart TV Euro application. Football enthusiasts who fancy testing their knowledge of the sport can play a Euro Football quiz delivered via a sister app, which presents multiple-choice questions based upon pictures of the participating teams' players, managers and jerseys.
Soon after the winning team captain (Steven Gerrard anyone?) lifts the Euro 2012 trophy on the 1st of July, the app will automatically be converted to the London Olympic Games app which, as the name suggests, will provide the latest news about the London 2012 Olympics, including event schedules, results and medal tables. Various tidbits like tourist info on Olympic venues and infrastructure, history of the games, and infographics on certain sport disciplines will also be offered through the Philips Olympics Smart TV app.