Philips has confirmed that its 2011 range of HDTV displays will feature integrated Freeview HD tuner for the very first time, effectively levelling the playing field against competing models from other TV brands who have had a year-long head-start in this respect. Last week, the Dutch manufacturer unveiled its new consumer electronics products for the year ahead at its annual media event in Barcelona.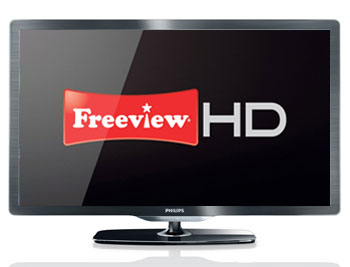 An inbuilt Freeview HD tuner was conspicuously absent from the company's 2010 television models, immediately putting Philips at a disadvantage when potential buyers weighed up its offerings against HDTVs from the likes of LG, Panasonic, Samsung and Sony. The DVB-T2 high-definition digital terrestrial television (DTT) service had already achieved 50% coverage in the United Kingdom by June 2010, and when you consider that Freeview HD is probably the least expensive (no monthly subscription nor satellite dish installation is required) and most convenient (just hook the TV up to an aerial) source of high-def content, Philips's decision not to join the movement last year was baffling to say the least.
Realising its oversight, the Amsterdam-headquartered corporation is determined to put things right in 2011: all new UK models will come equipped with a built-in Freeview HD tuner, fulfilling a crucial item on the checklist of most British customers who are looking to purchase a HDTV. Recognising the growing importance of internet connectivity, Philips has also beefed up the web-connected interface on its 2011 TVs.
Given a moniker of "Smart TV" (how original), the company's new internet-connected platform consists of four main components: SimplyShare, Net TV, Program and Control. SimplyShare allows users to play image, video and music files from computers, laptops, smartphones or other gadgets connected to the television. Net TV is the actual hub of internet-enabled content (which may include Facebook, Twitter and UK catch-up TV services in the future). Program alludes to the redesigned EPG (electronic programme guide) which is further enhanced by USB recording functionality, whereas Control refers to the ability to use special smartphone apps (available on both Apple iOS and Google Android operating systems) as remote to control the TV.