In a business suite a short distance away from the noise and bright lights of the Las Vegas Convention Center, TP Vision – the company now responsible for making and marketing Philips TVs – invited journalists who were attending CES for one-on-one demonstrations of what it has in store for 2013.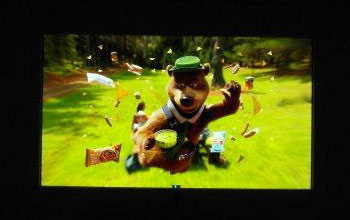 Philips demos 60-inch glasses-free 3D TV prototype at CES 2013
Much of what we saw is under embargo for the next few weeks, but we can cryptically say that Philips is introducing some slick-looking LED LCD HDTVs, one of which has an especially striking design which we can't wait to get our hands on.
Excluded from the hush-hush arrangement is Philips' new 60-inch glasses-free 3D TV prototype. We didn't take any pictures of this (the photo above was from an earlier IFA 2012 incarnation), since the design is as minimalist as you'd expect from a modern LED LCD, and the extra-dimensional effect obviously won't be visible in photos anyway. Picture quality was a definite leap forward from previous autostereoscopic display demos we've seen (although we could still see what looked similar to motion estimation artefacts in areas where foreground and backgrounds met).
The setup was carefully controlled with a white line on the floor indicating our ideal seating (in this demo, actually standing) position. Meanwhile, a guide on the bottom of the screen, in the form of overlapping blue rectangles, alerted us to the optimal centre-point for our chosen location.
Philips pointed out that unlike some competing glasses-free 3D televisions which are limited to a much smaller number of positions, we could place ourselves horizontally anywhere in the room we liked, provided we then shuffled a little so that the blue guide rectangles at the bottom of the panel aligned. While impressive from the point of view of allowing several family members to watch at one time, we'd always like to be face-on with the panel, simply to avoid geometric distortion, which we think is crucial for a convincing 3D image.
The 60″ prototype display was based around a 4K LCD panel, though we understand that the extra resolution in this case was being used as a surplus to counter the losses imposed by the lenticular filters on the screen. In the end, the glasses-free 3DTV prototype is said to produce 1920×1080 images.
We couldn't help but bluntly ask, does Philips think developing a new kind of 3D product is really a good idea, given that 3D television hasn't caught on with consumers? To that, their answer was a resounding yes, since in their view, the glasses (or "goggles" as they called them) have been 3D TV's Achilles' Heel.
Although still in prototype form, here's hoping that the glasses-free 3D technology is implemented in a future HDTV from a newly revitalised Philips. We look forward to bringing you more information on this, as well as Philips' traditional LED LCD TVs, later in the year.