Let's face it, not everyone wants a whole bunch of speakers in their living room, and that's where the soundbar comes in. With most manufacturers throwing in a wireless subwoofer into the mix, there's no trailing wires to contend with either, but what about going a stage further and putting the sub into the bar itself? We know what you're thinking – bad idea – and we were thinking the same thing too, but step back, bear with us, and let us tell you about the Philips HTL5120/12.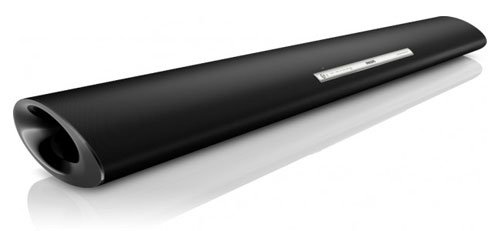 Design
If Bruce Wayne was going to ask Lucius Fox if he had any prototypes in applied sciences for soundbars, we're pretty certain that if he had, it would resemble the Philips HTL-5120, which looks every bit like a premium product, so much so in fact we had to double check it's priced at £250! It simply is a beautiful looking sound bar, complete with integrated active subwoofer and a stunning wing-shaped profile. Build quality at this price point is fantastic.

The HTL5120 sports an inky black cloth that covers the entire bar, adding to its already stylish look. There is no LED display, but what you do have is a series of white LED lights which light up to indicate what inputs are selected. These same lights also double as treble, bass, and volume level indicators. The HTL-5120 also includes an inbuilt sensor which optimises the sound whether it's placed on a table or wall-mounted, and either way, the Philips is soundbar eye candy.
Connections
The Philips HTL5120 comes with an impressive amount of connections, more so than many of its higher priced rivals. These include AUX in, Digital coaxial in, Digital optical in, HDMI output (ARC), HMDI IN 1, HDMI IN 2, and Audio in (3.5mm).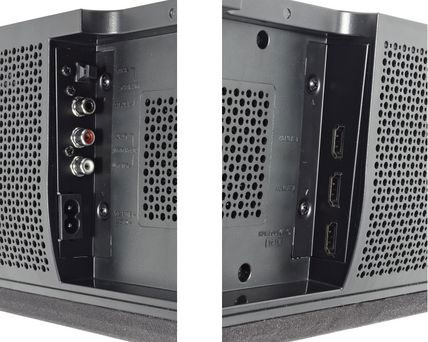 The sound bar also features integrated Bluetooth, allowing you to stream music from your smart phone, laptop, or other portable device, as well as onboard decoders for both Dolby Digital and DTS audio signals.
Setup
Set-up was extremely straightforward. For the purpose of this review, we simply connected our Blu-ray player and set-top box via the two HDMI inputs, then took a single HDMI out into our HDTV. As the Philips supports HDMI with Audio Return Channel (ARC), if your TV is HDMI ARC compliant you can connect all media devices to your television, and output the audio to the soundbar via the HDMI (ARC) output. If your display doesn't have an HDMI (ARC) output you can still connect all your media devices to the TV, and then use an optical cable to output the audio. This is done simply by connecting the OPTICAL connector on your soundbar to the OPTICAL OUT connector on the telly.
Sound Quality
Ok so the Philips 5120 looks great, boasts an abundance of connections, how does it sound? The answer to that question at this price point is… fantastic! We have to admit we didn't hold out much hope for this one, as the idea of having an integrated sub housed in the soundbar itself may be asking too much, but how wrong were we. Whilst finishing off our last slice of humble pie, we fed Damien Rice's "The Blower's Daughter" to the sound bar. We chose this track as it has a precise upright vocal track, and deep rich low octave notes from some stunning bass and cello ensemble. It's a real test of both high, mid, and low-end frequencies, and the Philips knocked it out of the park! Vocals were reproduced with a warm and rich tone, and as we held our collective breath waiting for it to stumble with low-end response, the HTL5120's two bass drivers reproduced those low deep tones with a solid and full depth, which for us was a revelation at this price point.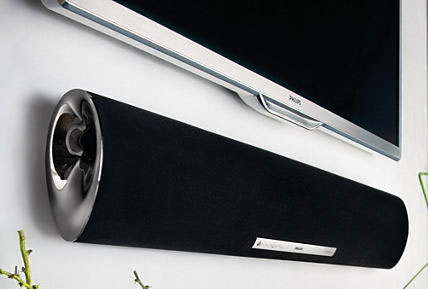 Movie soundtracks were handled with the same exceptional sound quality that we'd found with music sources. This time we gave The Dark Knight Rises a spin, and the dynamic soundstage the HTL5120/12 served up was a joy to behold. We ran this one quite hot on the volume to see how the bass drivers coped, and at some points the Philips' bass would stumble and cause the bar and surface to rattle. We played the same scene, but this time placed some studio monitor foam under the bar at each corner to raise it just off the surface it was sitting on, and at a sensible listening volume (and what we deem to be an average living room) the rattle was as good as gone. Surround surfaces can have a huge impact on sound, so if you have problems with vibrations and rattles, raising the bar just off the surface it sits on can not only improve the sound, but also iron out any rattles. On further listening, the warmth that was present with music transfers over to motion picture soundtracks, delivering an engaging listen with a wide, full-bodied sound that stretched across our soundstage – truly superb stuff. We're sorry to say that the virtual surround mode did nothing but compress and make that wonderful soundstage completely fall apart, so we urge you not to go near it.
Other sound effects on the Philips HTL5120 can be enabled via the remote control which is nicely-sized and easy to navigate. Yes, it could be bigger but for us, it serves its purpose fine. As we're audio purists, we tend to have all sound effects turned off and keep the EQ as flat as possible, but in this case we found that a slight increase in both bass and treble injected more life to the Philips. This is where our only real gripe with the HTL5120 is found. There is a row of LED indicators on the top of the bar: five representing an input, one for virtual surround, and a final one for music link. These lights then independently light up as you increase or decrease the volume from 0-60. When adjusting the bass and treble, the virtual surround light comes into play and blinks each time you adjust either way, and when you've reached its minimum or maximum setting, that same light will then stop blinking, and instead stay lit for two seconds to indicate that you've hit the maximum adjustment. We found this a bit frustrating and clumsy to navigate, and to make matters worse the sound would cut out for a brief second every time an adjustment was made. The good news is that it didn't take long to get a setting we were happy with so we'll hopefully never have to adjust the tone again.
Conclusion
As mentioned previously, we initially harboured low expectations of the Philips HTL5120/12, but having spent some time with the soundbar, it's really hard to fault for the money. Stunning build quality, an abundance of connections, Bluetooth technology, easy set-up, and above all else it sounds wonderful. Integrating the subwoofer into the sound bar is in itself a credit to the engineers at Philips, but not only that, the result doesn't sound terrible. We thought it would, but the HTL-5120 sounds full, warm, and dynamic, and here's the best part: it's only £250!
Ok, we weren't entirely sold on the tone control adjustments, and yes the drivers will rattle when pushed really hard, but taking everything else into account there's nothing to touch the Philips 5120 at this price point. We'd argue that it even gives other sound bars with standalone subs costing twice the price a run for their money. With all that in mind, the Philips HTL5120 fully deserves its "Highly Recommended" rating.