At a launch event in Barcelona, TP Vision has confirmed the new Philips flat-screen televisions that will be released in the UK during the first half of 2015, including two 4K Ultra HD models. Taking cue from market research data indicating that more and more owners across all age groups under 65 are connecting their Smart TVs to the web and consuming video-on-demand (VoD) services in greater quantities, the Amsterdam-based manufacturer has embraced the Android 5.0 (Lollipop) OS that grants access to both the Philips Smart TV platform and also Google Play store.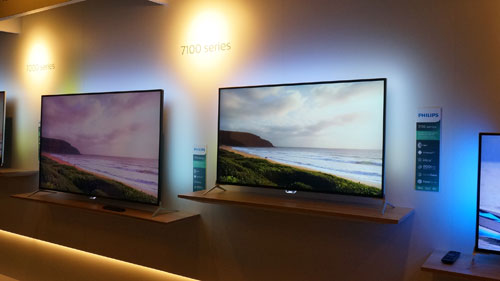 This is the second generation of Android TVs for Philips, and the company is rolling out this next-generation operating system on more displays than ever. In the United Kingdom, all 2015 Philips TVs except the entry-level 4200 and 5210 series will be powered by Android, delivering at least four benefits:
Intuitive user experience with responsive navigation;
Easy access to a wider selection of on-demand streaming services to complement traditional linear TV broadcasts;
Cloud gaming capabilities from OnLive, Google Play store or premium partners like Gameloft and EA, without needing a dedicated console; and
Integration with other smart home applications and devices within the Android ecosystem.
We were treated to a hands-on demonstration of Philips' new Android TV OS, and it certainly looked impressive, offering a slick interface and fluid navigation. Higher-end models even come with a dual-sided remote control that has been customised to enhance the Android experience, featuring a QWERTY keyboard on one side (with larger keys than previous years'), and traditional remote buttons plus a swipe pad on the other. We did miss the free-floating mouse pointer function from its predecessors – Philips explained that unfortunately this feature is not supported by the Google Android system.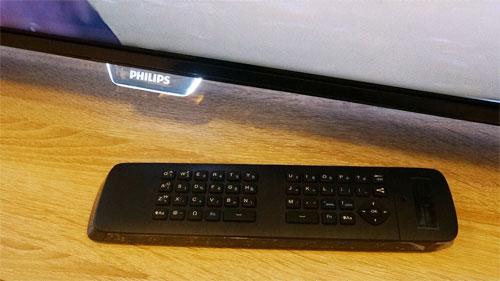 Delving into the UK-bound ranges, the majority that will be arriving during the first half of 2015 will be full HD 1080p models, with the higher-end ones getting the aforementioned double-sided QWERTY remote, 100Hz native 10-bit LCD panel, active 3D capabilities, 2- or 3-side Ambilight (which this year is boosted by the addition of new presets for music and gaming), and higher Picture Motion Rate (PMR) specification.
Two new ultra high-definition (UHD) Philips televisions are scheduled for H1'15, namely the 6400 and an unspecified 7000 series. Available in 40in, 50in and 55in screen sizes, the former will feature a dual-core processor, a 50Hz LCD panel, 700Hz PMR, inbuilt Freeview HD tuner, a host of picture processing technologies including Pixel Plus Ultra HD, Micro Dimming Pro, Ultra Resolution and Perfect Natural Motion, as well as Android-based Smart TV portal.
Due to general delays surrounding the development/ deployment of the TV version of Android 5.0 Lollipop, these new Philips Android TVs have been given a release date around June/ July. Prices remain unknown at time of publication, but we'll make sure to update this article once they're announced.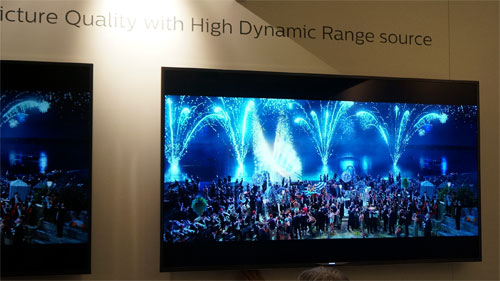 Looking ahead, Philips also teased its upcoming 8000 and 9000 series expected to be launched at IFA 2015 in September. The range-topping Philips 9000 is undoubtedly going to be the most interesting, boasting direct LED full-array local dimming (with more than 144 dimmable zones) and high luminance (significantly more than 450 nits), paving the way for HDR support with HDMI 2.0a compliance.
After a challenging transition period over the past couple of years, things are definitely looking brighter for TP Vision/ Philips as the joint venture seeks to re-establish the brand as a force to be reckoned with in the TV world through TPV's component sourcing network together with Philips' video processing knowhow and Eurocentric craftsmanship. Whereas in 2013 and 2014 stock of Philips televisions can be hard to find in the UK, the firm has worked hard to gain more support from various retail channels in 2015, with several big British store chains having already expressed interest in stocking the brand's TVs this year. Roll on summer!