In a pleasant surprise, TP Vision – the company responsible for the production and marketing of Philips televisions in the UK and Europe – has revealed that it aims to launch its first consumer OLED television later this year. The statement came during a picture quality workshop hosted by Philips' TV guru Danny Tack at the brand's annual launch event in Brussels.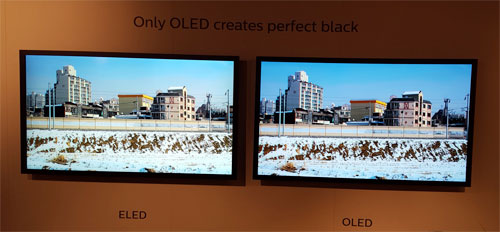 Tack actually went as far as setting up a prototype 55-inch OLED display beside an edge-lit LED LCD television, and began to demonstrate OLED's numerous virtues. Indeed, the Philips OLED not only exhibited significantly inkier blacks, but because of its unrivalled contrast performance, brighter elements (we were shown fireworks exploding against the night sky, albeit not in HDR) actually produced greater impact than what's witnessed on the LCD display.

Interestingly, Tack proceeded to compare the motion on both displays with a clip of a moving train. Because of its insanely fast response time, motion on the OLED prototype was cleaner, not to mention sharper with interpolation enabled on both sets. Showing a clear grasp of the reasons behind motion blur, he admitted that 70% is down to sample-and-hold, but explained that it's currently not possible to implement dark frame insertion or scanning backlight techniques on OLEDs because the luminance loss would be too great given the display technology's ABL-restricted brightness limitations.
Tack was upfront about the source of the Philips OLED panel: it's going to be supplied by LG Display, which comes as no surprise at all since the South Korean vendor is pretty much the only player in town as far as OLED is concerned. The UK and Europe will most likely only get a 55in flat-screen model, whereas Philips will seek to launch a curved 65-inch version in China. As with the rest of the company's 2016 television range, there will be no 3D support on its new 4K OLED TV.
Tack and other TP Vision executives at the event refused to be drawn on release dates, but the pressure is certainly on for an IFA 2016 unveil come September. Pricing-wise, TPV said that it wouldn't make sense for the company to price its OLED offering lower than a similarly-specced model from LG (i.e. the OLED55B6, what with its 55-inch screen size, flat form factor and lack of 3D capability), since Philips will be adding its own video processing to the mix.
A lot of things are still up in the air, but if a Philips UHD (ultra high-definition) OLED TV does materialise at IFA, 2016 is going to be an exciting year for video enthusiasts. Considering that TP Vision/ Philips hasn't announced a 9 series for the first half of 2016, it's not beyond the realm of possibility that the OLED will take up the 9000 flagship mantle, and quite probably be the world's first OLED television with Ambilight and/ or Android TV.