TP Vision, the joint venture between TPV Technology and Philips Electronics which is responsible for the development, manufacturing and marketing of Philips-branded TV sets, today announced the addition of the immensely popular Spotify music streaming service on Philips Smart televisions. The Spotify app will become available on Philips' Smart TV platform from the middle of December.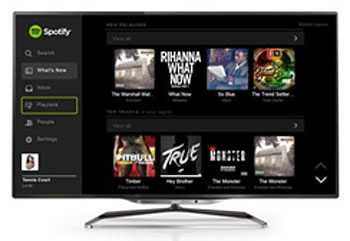 The cloud-based music streaming service will be hitting Philips' 2013 lineup of Smart TVs from the 6000 series and up, i.e. the 6008, 7008, 8008 and 9708 range. This means that lucky owners of the Philips 55PFL8008 LED TV (a recipient of our coveted "Highly Recommended" badge) and the 65PFL9708 4K Ultra HD television (which we hope to review before the year is out) will benefit from the upgrade.
Current apps available on the company's Smart TV portal in the UK include BBC iPlayer, Netflix, Skype, Facebook, Twitter and YouTube. The new Spotify app provides instant access to over 20 million songs, top tracks and albums, plus the ability to listen to and manage playlists, as long as you have a premium subscription. New Spotify customers can get a free 30-day premium access to trial Spotify on a Philips Smart telly.
Commenting on the tie-up, Spotify's global head of hardware partnerships Pascal de Mul said that the cooperation with TP Vision represents another step in the firm's goal towards making the world's music easily and instantly accessible on every platform on the market.