Pioneer's long-awaited comeback in the television market has finally been confirmed with the announcement of three full HD LED TVs available in 40″, 46″ and 55″ sizes, scheduled to arrive in the Nordic countries this month before they land on UK shores early next year.
No doubt this news will have many former devotees of the Japanese brand, which was known for producing awesome plasmas back in the day, drooling with anticipation – but wait! For things aren't quite what they seem.
The "Pioneer" brand may well be slapped on the front of its new HDTVs, but these latest models are an altogether different proposition to its legendary Kuro plasma range. While we've yet to get our hands on a set, our research has led us to believe that the new Pioneer flat-screen TVs are in fact rebadged and rebranded Thomson tellies manufactured by Chinese consumer electronics giant TCL.
It doesn't take a genius to work out how we've arrived at this conclusion. When Pioneer's comeback was reported last month, we noted that the company would only be lending its name to 'third-party' television manufacturers in an exclusive deal with Dixons Retail Group. And now, with the launch of Pioneer's new LED TVs, it's not difficult to work out who those third parties are – none other than China's TCL who sells televisions under its Thomson brand in European markets.
The new Pioneer LED LCD HDTVs – as seen on various Nordic ecommerce sites operated by Dixons Retail such as Lefdal in Norway and Elgiganten in Denmark – is a spitting image of the Thomson W6 series, as a quick comparison of the two models demonstrates. Many aspects on the Pioneer – the shape and size of the TVs, the discreet stand, the 6mm slim bezel, and even the royalty-free image of the little girl on screen – are identical to those of the Thomson.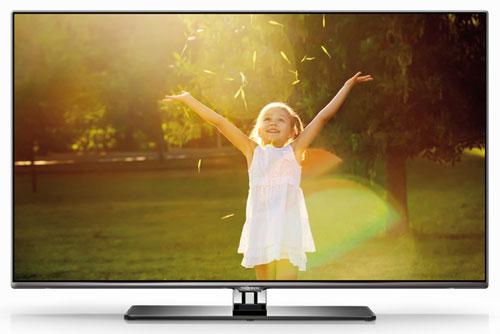 Spot the difference… (image credit © TCL)
Upon further investigation, we discovered that the two television models share many of the same features as well, including built-in DVB-T and DVB-C tuners, Smart TV functionalities like a web browser and Netflix app, DLNA streaming capabilities, active-shutter glasses (ASG) 3D, and USB recording.
It's not a real surprise that someone like TCL would choose to license the Pioneer brand – after all, Chinese TV manufacturers are rapidly closing in on their Korean and Japanese counterparts, aggressively pushing products like their keenly priced 4K Ultra HD TVs into Western markets. The Pioneer name gives TCL an instantly recognisable brand that's far more appealing than their own – even if it is just a repackaged Chinese display.
Pioneer's new LED TV lineup is available in 3 screen sizes, namely the 40-inch L40S3D13N, the 46-inch L46S3D13N and the 55-inch L55S3D13N. In Norway, they retail for 6995, 8995 and 11995 Norwegian Krone respectively, which converts to around £700, £900 and £1200.