Korean consumer electronics giant Samsung has announced that its Smart TV apps store is getting a new addition in the form of the largest TV games network in the world, PlayJam. This network offers hundreds of in-house and branded games, which means that Samsung Smart TV users will have access to a huge choice of games as a result of this collaboration.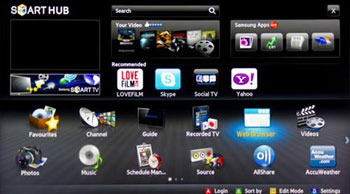 Smart TV users will not need to connect another video game console to their HDTV sets, as the PlayJam app provides the convenience of allowing users to stream the games directly to their Samsung Smart TVs, saving them time and hassle. Consumers will be able to enjoy great quality high-definition display and excellent picture stability when playing these games, which are displayed in HD widescreen format.
While playing the games, users will also be able to enjoy chatting and socialising with others through the PlayJam Social TV Games Platform. This will enable chatting and messaging within the network, making it a far more involving and fun experience for players. There are a number of features that come with the application to encourage competition amongst gaming fans, including gaming tournaments, leader board displays, virtual currencies, and a range of events involving mass participation.
Guy Kinnell, Samsung UK's TV marketing director, said that the company wants to make sure that its customers are able to continually access fresh and exciting content to enjoy on their televisions, which is why it strives to expand its Samsung App Store regularly. He said that the partnership with PlayJam means that a wider audience will be catered for, and consumers will be able to make the most of their Smart TVs. Commenting on his firm's tie-up with Samsung, PlayJam's CEO Jasper Smith expressed his belief that TV gaming would overtake mobile gaming in terms of revenue over the next few years.