Sony has posted a massive FAQ to answer some of the lingering questions gamers have before the PlayStation 4's launch next month, but they might not be the answers we were hoping for. The "Ultimate FAQ" deals with topics surrounding the hard drive specs, performance, what the next-generation console does and does not support, and more. Sony says that the FAQ is currently incomplete, and will be updated leading up to the PS4's launch on the 15th and 29th of November in the USA and Europe respectively.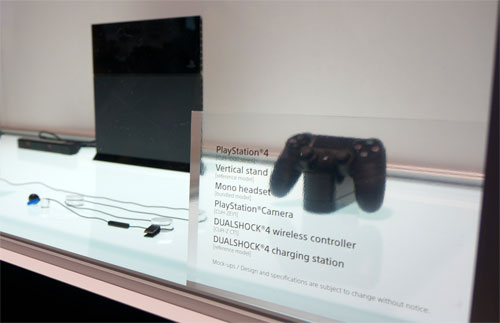 One of the biggest disappointments is that the PS4 will not support external storage, although that's not so much a hammer blow as one might think, but rather a minor annoyance. Instead the PS4 will come with a 500GB hard disk drive (HDD) that users can swap out, so long as the replacement drive meets 5400 RPM SATA II hard drive specifications, is larger than 160GB and no thicker than 9.5mm.
Users may also be disappointed to learn that unlike the PS3, the Sony PS4 does not support DLNA, which allows content to be streamed from a PC. With the PlayStation 3 it was possible to access content on a PC via the console's XMB (XrossMediaBar). In addition, MP3s and audio CDs are also unsupported by the PS4.
However there is better news regarding the PlayStation 4's 4K capabilities. Whilst Sony suggested that the console will not support 4K games, movie content or still images at launch, the company said that this remains "in consideration, but there are no further details to share at this time." Now this is by no means guaranteed, but given Sony's love of 4K Ultra HD (UHD) in general, it's quite possible that 4K support could be provided via a firmware update in future.
Aside from this, there are plenty of features that will be supported at launch. Most notably, three-dimensional gameplay will be supported, though at launch there will not be any 3D-compatible games available. DVD and Blu-ray playback for movies will also be supported by the PS4, though users will need to download the Day-One update before they can enjoy this feature.
Sony also spoke about some of the services that subscribers to PlayStation Plus will receive, as well as the options open to non-subscribers. The blog post reiterates that a PS+ subscription is the only way to access the majority of online multiplayer games on the PS4. However there will be some limited options for non-subscribers, such as free-to-play games like Warframe and DC Universe Online.
Finally, the Japanese manufacturer also cleaned up speculation as to how noisy the PS4 system might be while in operation. According to the company, the PS4 will be "generally much quieter" than its predecessor. In addition, overheating will be less of a problem too as the PS4 comes with a new "stepless speed fan" that allows the fan to speed up or slow down as necessary. Even so, Sony stressed that its important to ensure there is "plenty of air circulation" around the PS4 whilst it's running.
Source: Sony PlayStation Blog