Not satisfied with building some of the best DAB radios in existence, Pure is making its first foray into television with the launch of its sleek new Pure Avalon 300R Connect Freeview+ HD digital TV recorder.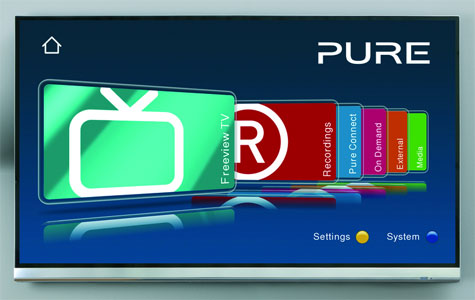 Pure outs Avalon 300R Connect, its first Freeview+ HD box
With prices starting at £299, Pure's latest gadget certainly doesn't come cheap, but at a first glance it looks every bit like a serious contender to YouView. Available in two different flavours – 500GB or 1TB – the Avalon 300R Connect provides up to 125 hours of HD recording on the smaller model, or 250 hours on its larger sibling, while it also packs integrated wireless connectivity, two USB ports and four HDMI inputs, allowing it to act as a hub for numerous high-definition AV devices.
Content-wise, the Pure Avalon 300R serves up a veritable feast of entertainment. No subscription is needed to view the four HDTV channels from the BBC, ITV and Channel 4, together with an extra 50 standard-definition channels, but that's just the start. Built-in WiFi means that subscribers can connect directly to Pure's music and internet radio services (hence the name "Connect"), whereas wireless streaming from iOS and Android devices will be added in the near future.
In addition, the Pure Avalon 300R Connect comes with full access to HTML5 versions of YouTube and the BBC iPlayer, with the promise of additional video streaming services like ITV Player and 4oD coming online in due course.
What really sets the Avalon 300R Freeview+ HD box apart though is not its features nor its content, but its awesome-looking user interface that makes YouView seem like a GameBoy in comparison. Based on PowerVR Technology, and driven by an Intel chipset, the 3D EPG delivers some of the most impressive menu graphics ever seen with a set-top box, with an incredibly smooth transition from channel to channel. Truly, the menus are a joy to interact with, and enhance the overall experience no end.
Pure's director of marketing Colin Crawford acknowledged that the Avalon 300R is entering a tough market to break into, but is confident the device will appeal to consumers:
"We believe that the Pure Avalon 300R Connect, with its market-leading PowerVR graphics, delivers the most attractive and engaging free TV viewing experience around."
The Pure Avalon 300R Connect is available to pre-order now, with the 500GB model priced at £299, and the 1TB model retailing for £350.