Korean consumer electronics giant Samsung has announced the arrival of Red Bull TV on its Smart TV platform, offering a greater level of choice and exciting entertainment for owners of its internet-connected HDTV models. The Red Bull channel will bring a range of original programming and extreme sports coverage into the homes of viewers, which will provide them with access to a variety of unique entertainment.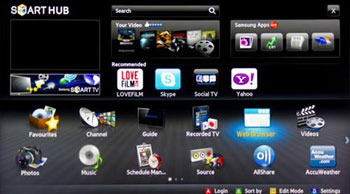 Red Bull arrives on Samsung Smart TV Apps Store
The Red Bull channel will provide viewers with access to everything from extreme sports coverage through to music, pop culture, urban lifestyle, games and various live events. It will offer both live coverage and video-on-demand (VoD) services, so it will suit a wide range of viewers with different lifestyles and schedules.
Many people will be excited about the launch of the Red Bull app because of its timing, as this is set to be an exciting year in the world of sports in the United Kingdom. The app means that consumers will be able to access extreme sporting action via their Samsung Smart televisions, so they don't have to miss out on any of the sporting excitement that is due to take place over the course of this year.
Samsung UK's marketing director for TV Guy Kinnell said that the Red Bull app will bring even more in the way of exciting sporting action to the Smart TV range from the company. He said that the new app complements the existing extra-dimensional sporting content from Red Bull that is available on the Explore 3D app. He added that Samsung is very excited about the app, given that this year is set to be such an exciting year for British sports (take for example the London 2012 Olympics), enabling viewers to maximise their enjoyment of all the sporting action.
The Red Bull app joins an ever-expanding portfolio of innovative apps that have come to the Samsung Smart television platform, including popular on-demand video streaming services such as BBC iPlayer, Netflix and LoveFilm.