Sony won't be having things all its own way in the next-generation ultra high-definition (UHD) video race. Heavyweight digital video producer RED has stepped into the fray, announcing it's taking preorders for its new REDRAY 4K Cinema Player, an ultra HD, internet-capable media server that can display 4K resolution from a variety of sources.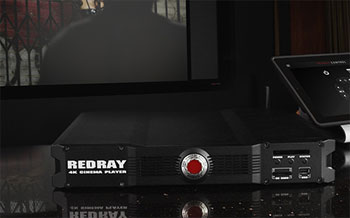 RED launches REDRAY true 4K media player with HFR 3D support
RED stated in its official press release that the REDRAY will come with a whopping 1TB of storage space on its internal hard drive, whilst its primary source of content will be drawn from its fibre-connected Odemax.com distribution network. The device is also equipped with USB 2.0 and SD card inputs for loading additional content.
The move comes less than a week after Sony announced the release of its own 4K Ultra HD media player, which will be given away to buyers of its 84-inch 4K TV on a loan basis.
RED's newest device looks to be a worthy competitor to Sony's offering, being designed to work with RED's ecosystem of top-end digital cinema players. The REDRAY will be able to deliver true 4K videos at up to 4096×2160 pixels using the proprietary .RED file format, whilst it also has upscaling capabilities for lower resolution content such as 1080p HDTV. Included on the device are no less than six HDMI ports – five video, one audio – which allows users to connect either one UHD or multiple low-resolution displays at the same time.
Another nice little feature of the REDRAY is its high frame rate (HFR) 3D compatibility – the same 48fps 3D video debuting on cinema screens with the newly released The Hobbit movie. In addition, 60fps 3D will also be supported, says RED.
One final technical superiority of the player is REDRAY's 12-bit, 4:2:2 colour format, compared to the 8-bit, 4:2:0 found on standard Blu-rays.
The company says that REDRAY is now available to pre-order in the United States, with the device costing a cool $1,450 (around £900). Sadly though, there's no word from RED on a possible UK release date, which means that consumers here will likely have to wait until next year to get their hands on one of the devices.