Although the gradually increasing number of free-to-air HD channels – such as BBC HD, ITV HD and BBC1 HD – has been music to the ears of most UK HDTV owners over the past few years, a selected few are uneasy about the continuing lack of regional coverage on these high-definition channels, which makes it difficult to relay targeted content like local news to viewers around the country who prefer watching high-def channels over their standard-definition equivalents.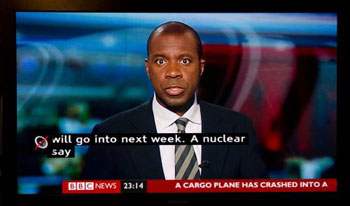 The issue has recently been raised by campaigners in Wales as the date for a referendum on extending the legislative powers of the Welsh Assembly draws closer. Specifically, they are worried that Welsh people who watch mostly HD content will miss out on important regional TV broadcasts (from both the pro and against camps) during the run-up to the polling day on the 3rd of March 2011, which may lead to information shortage and suboptimal turnout among voters.
At present, the BBC HD, BBC1 HD and ITV1 HD channels only screen UK-wide high-definition content with minimal regional variation due to bandwidth and financial constraints. BBC One HD currently shows a holding screen with silence in place of the local programmes delivered on the SD simulcast. On its website, the Beeb indicated that it will eventually broadcast all regional television programmes in high definition, but did not give any schedule for the rollout.
On the ITV front, the broadcaster was granted six separate licenses by UK media regulator Ofcom to operate regional versions of its ITV1 HD channel, namely Central, London/LWT, Meridian/Anglia, Granada/Border, Yorkshire/Tyne Tees and Wales/West. The first four ITV HD regional services are now up and running, but only the London and Granada versions are available free-to-air (i.e. on Freeview HD or Freesat). At this time of writing, the Central and Meridian variations of ITV1 HD are only offered on free-to-view systems, for example with a Sky digital satellite TV subscription.