Yesterday, we held a side-by-side comparison event of the top TVs available to buy in the UK market today together with British retailer Crampton & Moore and Leeds Trinity University. Video enthusiasts who attended the event were asked to vote for the best 4K Ultra HD TV and also the best TV (including 1080p sets) overall in terms of picture quality. The results are now in, and Japanese manufacturer Panasonic was the big winner, scooping both gongs with its Viera AX802 4K LED series and ZT plasma respectively.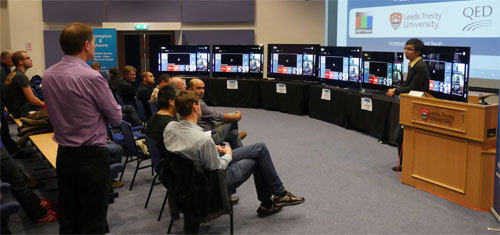 With due consideration given to separate the pairs of Samsungs and Panasonics (to avoid one remote control action affecting two TVs), while making sure each curved display was positioned beside at least one flat panel for comparison purposes, the televisions were arranged in the following order from left to right:
Samsung UE65HU8500 curved ultra high-definition (UHD) TV
Panasonic TX-65AX802B 4K television
Sony KD-65X9005B 4K Ultra HD TV
Samsung UE65HU7500 UHD television
Panasonic TX-P60ZT65B plasma display panel (PDP)
All the TVs were calibrated to D65 greyscale, 2.4 gamma and Rec.709 colour space standard. Peak white was set at 45fL (154 cd/m2) instead of our usual target of 35fL (120 cd/m2) which we felt would be too dim since there's competing ambient light from five other screens for every display. To achieve this amount of light output on the Panasonic ZT65/ZT60, we had to use [Panel Luminance] "High" with a method that preserves gamma tracking and WTW (whiter-than-white) detail up to 240. We don't think the results would have been altered had we calibrated the TVs to a peak brightness of 120 cd/m2.
The four 4K UHD TVs feature edge-lit LED backlighting with pseudo-local dimming technology. For each of these models, we engaged its respective pseudo-local dimming system to achieve deeper blacks, though at a level which introduced the least backlight fluctuation, gamma skewing and crushing of shadow detail. That meant [LED Dynamic Control] "Low" on the Sony X9005B, [Adaptive Backlight Control] "Mid" on the Panasonic AX802/AX800, and [Smart LED] "Low" on the Samsungs.
Source equipments included an OPPO BDP-103 Blu-ray player, a late-2013 top-of-the-line Macbook Pro with 4K video out; and a Panasonic DMR-BWT735 Freeview HD recorder set to output interlaced video signal to simulate British television broadcast. All sources were connected to the TVs using QED cables routed through Lindy HDMI splitters.
4K
Attendees (allowed to move around to overcome the viewing angle limitations of the LED LCDs) were shown a selection of native 4K clips from the Macbook Pro on the Ultra HD TVs. When Blender's Foundation excellent open-source 4K movie Tears of Steel was played, a corresponding full HD version was shown on the 1080p sets, namely the LG EA980V OLED and Panasonic ZT65 plasma TV. On the whole, any minor advantage in resolution on the 4K models was trumped by the superior contrast performance of the OLED and plasma televisions.
HD & SD
To test 1080p content, a short snippet from the superbly-mastered Blu-ray of Skyfall was playbacked through the OPPO BD player on all the TVs. For standard-definition handling, attendees were shown a recorded clip of – don't laugh – Hollyoaks on E4 from the Panasonic BWT735. All four Ultra HD televisions upscaled these material with aplomb: putting aside differences in colour and contrast, they did not look appreciably worse (though not better either) than the 1080p HDTVs even on 65-inch screens.
Contrast Performance
Unsurprisingly, the LG OLED and Panasonic plasma left the 4K LED TVs in the dust in this category. Between these two world-class displays, the LG 55EA980V curved OLED produced true 0 cd/m2 blacks, making even the Panasonic ZT look grey during the first Batman-Bane fight scene in The Dark Knight Rises. A number of participants thought that shadow detail on the LG appeared less distinct, but it's probably due to Panasonic plasma's propensity to brighten near-black gamma.
Among the Ultra HD LED LCD displays, the Panasonic TX65AX802B's pseudo-local dimming system delivered the deepest blacks without causing visible blooming, luminance fluctuation or crushed shadow detail. The Samsung HU7500, and to a lesser extent the HU8500, struggled with the sequence in Kill Bill Vol 2 where Uma Thurman was buried alive, switching their LEDs on and off like a disco light.
To evaluate the other end of the contrast ratio spectrum, attendees sampled Chapter 2 in the outstanding Blu-ray of snowboarding documentary The Art of Flight. This was where the LED LCDs shone: the blanket of white snow in this high-APL scene looked noticeably dimmer on the LG OLED TV and Panasonic PDP due to the effects of ABL (Automatic Brightness Limiter), with the former even taking on a warmer tint.
Colour
All six TVs rendered colours beautifully – the flying fish sequence in Life of Pi was used as reference – with not much difference between each other. The LG EA980 and Panasonic ZT understandably looked more vibrant and punchy because of their deeper blacks which provided a purer canvas for the colours to flourish, although the blues on the OLED television did not appear as rich. The benefits of Panasonic's "Super Chroma Drive" technology could be seen here, helping the Viera AX802/ AX800 paint more saturated colours in darker areas on screen than other LCD-based displays at the event.
Backlight/ Screen Uniformity
Among the LED LCD TVs, the Samsung 65HU7500 evinced the most even backlight and the best screen uniformity, a trend we've noticed on midrange and high-end Samsung flat-panel televisions (Series 6 and up) since last year. The Panasonic TX-65AX802B, Sony KD65X9005B and Samsung 65HU8500 all showed some vertical bands on a low-tone full-field grey screen.
The LG 55EA980V OLED TV exhibited multiple faint streaks around the centre of its screen as well as general dirty screen effect (DSE), but they were mostly imperceptible beyond test patterns. The Panasonic ZT plasma had blemishless screen uniformity.
Motion
As expected, the Panasonic Viera PDP ruled this category with its inherently high motion clarity afforded by impulse driving method. Black frame insertion (BFI) on the pair of Samsung UHD LED TVs proved to be more useful than that on the Sony Bravia X9B which – with [Motionflow] set to "Impulse" – failed to reach 100 cd/m2 peak brightness even with [Backlight] and [Contrast] cranked up to "Max".
Among the motion-compensated frame interpolation (MCFI) systems, Panasonic's [Intelligent Frame Creation]/ [24p Smooth Film] "Min" and Sony's [Motionflow] "Clear" (which also has a small dose of BFI) created the least artefacts and almost zero soap opera effect (SOE) when examined using a combination of test patterns, recorded football broadcast and Blu-ray films. Mesmerised by the LG OLED's awesome dynamic range, a few attendees commented that football was highly enjoyable on the TV despite featuring the lowest motion resolution even with [TruMotion] engaged.
Results
Out of more than 30 attendees, only 17 stayed until the end to participate in the voting (the organisers and ourselves were excluded from the process). In the "Best 4K Ultra HD TV" category, it was a landslide win for the Panasonic TX-65AX802B which secured a whooping 65% of the votes (11 out of 17) despite not supporting Netflix 4K. The "Best TV" category was much closer, but it's the other Panasonic, the Viera ZT plasma, which took the prize home, edging out the LG curved OLED by 10 votes to 7.
None of the 4K LED LCDs received any vote for "Best TV", suggesting that they still have some way to go before approaching the picture quality of the as-good-as-dead plasma and the not-yet-fully-fledged OLED TVs. That the Viera AX802/ AX800 managed to score a comfortable win over Samsung's and Sony's offerings just goes to demonstrate how good Panasonic is at making top-notch TVs: you can take TV (plasma) out of a company, but you can't take the company out of TV.