Much has been said about the latest next-generation console war between the Sony PS4 and the Microsoft Xbox One, with die-hard fans of both arguing till they're blue in the face over which console offers the best gaming experience. HDTVTest takes the more neutral view that both consoles are simply awesome games machines, but that doesn't make your buying decision any easier – so what are consumers to do?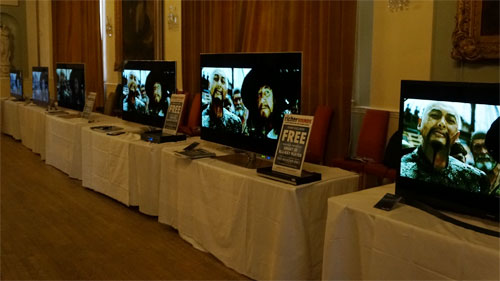 British audio-visual retailer Richer Sounds thinks it's hit upon the answer, and is to stage a special gaming event next month that aims to show consumers how to get the best from their video games experience.
The Ultimate Gamer event will pit Sony's PS4 against Microsoft's Xbox One, with both consoles hooked up to state-of-the-art TVs to showcase them at their very best. The event is being supported by Game, who is providing the consoles and will have a representative present to discuss which games are best and field questions from those who turn up.
There's some pretty cool hardware on display too, including the latest 42-inch and 50-inch Sony Bravia televisions, as well as LG's flagship 55-inch OLED TV. Besides this, gaming fans will also be able to experience both consoles on Sony's 4K Ultra HD projector, as well as an Optoma projector. Each television and projector will be connected to a PS4 and an Xbox One, so gamers will be able to compare the various hardware on display, and see for themselves which combination offers the best experience.
Of course, an event like this wouldn't be as much fun without a competitive edge, which is why Richer Sounds is organising not one, but two competitions. The first contest invites soldier wannabes to take on a semi-professional gamer at Call of Duty: Ghosts, with a Sony 32-inch LED TV prize on offer to whoever can take the semi-pro down. The second contest will be more appealing to speed freaks, with a £50 Richer Sounds voucher available as reward to whoever's able to set the fastest lap time on the virtual Top Gear test track.
The Ultimate Gamer event takes place next month on Saturday the 17th of May at The City Rooms listed building in Leicester, from 12 noon until 5pm. Entrance is free of charge, and there'll be free cups of tea and coffee for all who turn up.