Buoyed by the success of its previous "Battle Of The Big Brand TVs" showcase event where a bunch of calibrated HDTVs were lined up side by side for viewers to compare, next weekend British audio-visual retailer Richer Sounds is holding the latest installation in a series of similar demo events to take place in Leicester.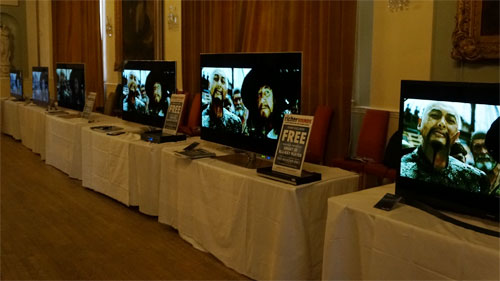 Given a theme of "Top Tech Showcase" this time around, the free-to-attend event aims to answer common AV dilemmas faced by potential buyers such as whether to go with a wireless or wired speaker solution, or to choose a projector over a more versatile HDTV for big-screen thrills. Aware of the buzz surrounding 4K Ultra HD at the moment, the company will also be exhibiting a cutting-edge 4K TV complete with native 4K content for attendees to experience ultra high-definition for themselves.
Two rooms will be set up: one with a largely wireless solution; the other with wires but expertly hidden out of view by Richer Sounds' pro installation team. The "Wireless" room will feature a pre-calibrated Epson EH-TW6100W projector, and a Sonos wireless 5.1 surround sound system consisting of a Playbar, a subwoofer and a pair of Play:3 speakers. The "Wired" room will be kitted with a JVC DLA-X55 projector (which we really liked) and a Yamaha/ Monitor Audio 5.1 home cinema package.
Both rooms will be playing Star Trek Into Darkness on Blu-ray simultaneously, giving attendees the rare opportunity of easily walking between the rooms to compare the different home theatre technologies on show. A Samsung UE55F9000 4K Ultra HD television will also be present with true 4K video playbacked on loop, which will be up against a formidable opponent in the form of the Panasonic TX-P60ZT65, our current reference screen.
Just like the last event, the Richer Sounds "Top Tech Showcase" will take place at The City Rooms listed building in Leicester, only on this occasion it's on Saturday the 28th of September from 12:00pm to 5:00pm. Representatives from Richer Sounds, Panasonic and Yamaha will be available to answer questions. There's no entrance fee, and free tea and coffee will be provided.
Contact: For questions about the event, please call Richer Sounds Leicester on 0333 900 0043, and ask for Ben.