A new report published this week by Ofcom has highlighted the growing popularity of smart TV in the UK, revealing that nearly 5% of households now possess one, despite many still seeing the technology as something of a luxury item.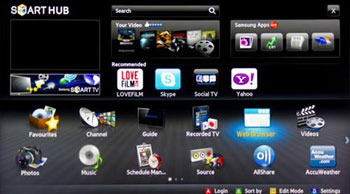 Sales of smart TVs grow; most used to watch catch-up TV
The media regulator's Communications Market Report 2012 studied different methods through which British consumers watch web content on their TV sets. The data showed that the market share of smart TVs has risen substantially over the last couple of years, propelled by a significant leap in sales numbers. Smart television sales in the United Kingdom increased by a massive 211% between the first quarter of 2010 and the first quarter of 2012, comprising a fifth of all televisions sold in the UK during this period. In total, just over 2.9 million smart TVs have been snapped up by UK consumers since the beginning of 2010.
So what is behind with the rise in popularity of smart TV? One reason that has commonly been cited is the internet functionality that comes with owning this technology. Surprisingly however, Ofcom's research shows that this is not a key priority for consumers, with only 27% of buyers citing this as a reason for buying 'smart'.
Rather, it would appear that there are more fickle reasons for wanting to own an internet-connected HDTV display. When questioned, just over 60% of consumers said that that one of the main reasons they had bought a smart TV was because it was the "coolest, most up-to-date product available", while another 40% revealed that they bought their smart television purely because of its looks.
Not all consumers were so fickle however, with 32% of respondents claiming they wanted the best screen technology available, while the range of online services offered by smart televisions was a motivating factor for another 20%. Another reason cited was being able to stream movies and programs online directly to their TV, while a small proportion of consumers said that they wanted to view internet content on a larger screen.
When it comes to viewing habits, catch-up TV was cited as the most popular activity undertaken with smart TVs. Ofcom revealed that 51% of all the smart TV users regularly watched catch-up TV, while activities such as streaming television programmes (42%), and streaming movies (41%) were also very popular. Interestingly however, smart TVs have not been widely embraced for general internet use. Activities such as social media, shopping online, and chatting using tools such as Skype were somewhat unpopular with Smart TV users.
It appears that the majority of viewers believe their smart TVs are an ideal platform for watching catch-up TV, streaming movies and programs, but seemingly very little else. Still, this could all change in the future – internet-connected television technology continues to evolve, and with the development of applications like the Zeebox, which allows users to engage with their interactive TV using a second device such as a smartphone or tablet, we could well see viewer habits evolve in the future.