Only five weeks ago, we reported that Samsung is planning to showcase an 85-inch ultra high-definition (UHD) 4K LED TV at the upcoming Consumer Electronics Show (CES) 2013 in Las Vegas, but now it appears that the Seoul-headquartered television manufacturer has something bigger – much bigger – up its sleeve. According to Korea news site MK, Samsung will be unveiling a gigantic 110-inch ultra HD TV at the event too.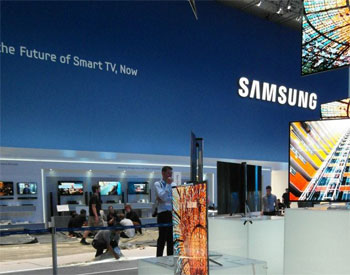 Samsung may exhibit 110-inch ultra HD 4K TV at CES 2013
An unnamed Samsung official was cited as the source, who said that the company will have a 110″ UHD TV on display when CES show floors open on the 8th of January next year. Aside from its sheer size, it's claimed that the UHDTV "will boast the best-ever definition and design that you haven't experienced before". The 4KTV is expected to sport a resolution of 3840×2160 pixels, four times that found on regular 1080p HDTV.
At 110 inches, Samsung's mammoth offering will dwarf the 84-inch 4K TVs currently available from cross-town rival LG Electronics and Japanese firm Sony, delivering around 70% more screen real estate. It will match the 110″ model that US brand Westinghouse has promised to showcase at CES 2013 as the largest 4K LED LCD televisions in the world.
With television makers continuing to push the envelope on the Ultra HD front, it leaves one questioning the future prospects of OLED TV technology, which has thus far failed to even make an appearance on the consumer market despite repeated promises since the beginning of this year. Industry analysts said that OLED yields for large-sized panels remain extremely low, hampering mass production and driving prices up.
Samsung will be holding its CES 2013 press conference on Monday the 7th of January at 2pm. Its latest products will be exhibited at booth #12004 in the Central Hall of the Las Vegas Convention Center, with the 110-inch UHDTV (if true) taking centre stage as its crown jewel.
Source: MK