The Samsung 55″ ES9500 OLED TV, which was first unveiled at the Consumer Electronics Show (CES) in Las Vegas back in January, is on track to be launched during the second half of 2012, the Korean manufacturer has confirmed. Samsung is trying to beat cross-town rival LG Electronics in the race to release the world's first large-screen OLED (organic light-emitting diode) television to the consumer market.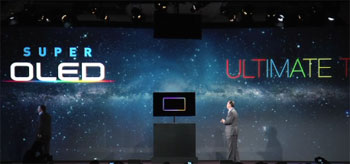 Samsung to launch 55″ ES9500 OLED TV later this year
Speaking at a presentation event in Seoul last week, Samsung's TV business head Kim Hyun-Souk revealed that its 55-inch OLED display will be rolled out in the company's home country of South Korea initially before becoming available in other regions. However, the large-sized OLED TV will probably be out of reach for the average consumer – it will carry a price tag in excess of 11 million won (approximately £5900) which is twice as expensive as Samsung's current flagship HDTV of a similar screen size (UE55ES8000).
Explaining the exorbitant price, Kim said that the first OLED televisions are the "most premium of premium TVs". He added that at least two to three years will be required for OLED TVs to go mainstream, at which point it may be viable for TV makers to commence mass production, bringing prices down to more affordable levels as economies of scale kick in.
OLED TV technology has captured the imagination of every video enthusiast, due to its emissive display characteristic which – unlike LCDs – does not require a separate backlight unit, and is therefore capable of delivering supremely deep blacks as well as rich and realistic colours. Furthermore, OLED technology itself allows for super-slim screens, frugal power consumption and wide viewing angles, making it next-generation display that television manufacturers are falling over themselves to bring to the mass market to combat sluggish consumer demand and dwindling profit margins. Market research firm iSuppli expects 34,000 units of OLED TVs to be shipped this year, rising to 2.1 million units in 2015.