Just days after Samsung announced the launch of its 105-inch curved-screen Ultra HD beast, LG Electronics has followed up with its own, equally curved and ridiculously enormous ultra high-definition (UHD) television that technically speaking, is actually a "5K TV" as opposed to boring old 4K.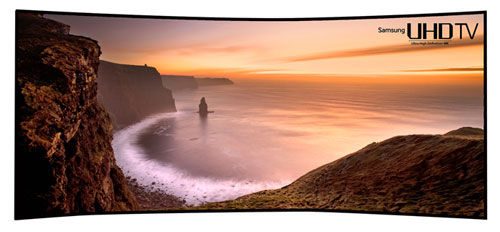 First up, lets speak Samsung. The world's number one TV maker rolled out its UN105S9W last week, featuring a mammoth 5120×2160 (21:9 aspect ratio) resolution. Bigger than any of its previous 4K TVs, the UN105S9W combines three cutting-edge technologies – curved-screen design, LED and 4K resolution.
"We are happy to unveil the 105-inch curved UHD TV, the culmination of Samsung's advancements, following the world's first curved UHD TV at IFA 2013," said Samsung Electronics' HS Kim. "You will experience a true curved TV optimized for consumer viewing environments at CES 2014."
Unfortunately, Samsung's monster TV comes with an equally monstrous price tag of $120,000 (about £70,800 in our money) that even the most hardcore movie fan or Coronation Street lover would struggle to justify. Nevertheless, there will surely be a few people out there for whom only the best of the best will do, and Samsung is obviously hopeful they'll have more money than sense.
Not to be outdone, LG followed up with its own "5K" TV on Thursday, and the good news is it won't cost you quite as much: the LG 105UC9 will 'only' cost you $117,000 (around £68,960), which makes it ever so slightly more affordable. Admittedly, sixty eight grand is still one hell of a lot of money, but on the plus side at least it will buy you a whole lot of telly. With the same resolution and cinemascope aspect ratio as Samsung's model, the 105UC9 boasts a massive 11 million pixels. It also has one fancy feature that Samsung's TV doesn't appear to have – an 7.2 channel audio system designed by Harman Kardon which incorporates LG's Ultra Surround concept.
There's no word yet on an official UK release date for either behemoth. Samsung's UN105S9W can now be pre-ordered in the USA and South Korea, while LG's 105UC9 is currently available in Korea only, though the manufacturer plans to release it in other markets "some time in the fourth quarter".