Just imagine what you could do with £35,000 burning a hole in your pocket? You might think that now is a good time to put a hefty deposit down a new home, or you might fancy driving that shiny new Audi A6 straight off the garage forecourt. Or, or, or… you could simply walk away with the most ridiculously expensive television in the history of mankind.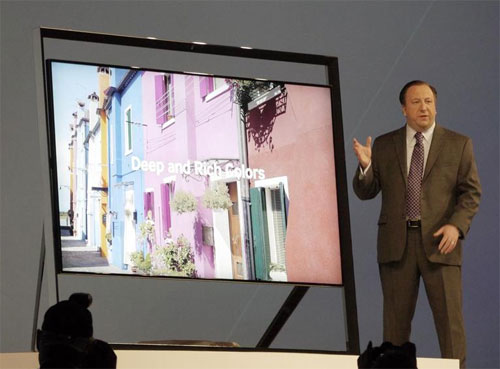 Samsung 85-inch Ultra HD S9 LED TV goes on sale in UK at £35k"
There's nothing about the new Samsung S9 that isn't absurd. A whopping great 85-inch screen, the 4K resolution that's akin to looking out of a window, an impossibly thin bezel and insane gadget lust that has us literally drooling in anticipation.
Toshiba and Sony have some serious competition on their hands all right.
Last time we saw the Samsung S9 was at CES in January, when Samsung finally lifted the curtain on the ultra-sleek, ultra-cool, "future of television" as they called it at the time. And now its here. You can actually own one. So long as you actually have £35,000 kicking around.
But is it really worth paying £35,000 for? No, of course it isn't, not when you can be driving around in your luxury Audi, buying a house, or jetting off on a round-the-world trip for the next 24 months. But then again, some people have more money than sense, there's sure to be more than a few takers.
If you happen to live near Selfridges' store in Oxford Street, London, or its second outlet in Birmingham's Space Ring, you might well be tempted to take a look anyhow. And what you'll see is an absolutely stunning visual masterpiece on display – the sumptuous 3820 x 2160 resolution, the 85-inch LCD panel, the gorgeous frame that allows it to be easily tilted or rotated to the perfect viewing angle, the discreet 2.2 speaker array that incorporates a 3-way sound system. That's without even mentioning the rest of the specs, which include a built-in camera, three USBs, four HDMI ports, Wi-Fi connectivity, MHL, Digital audio out, legacy connectors and two Freesat or Freeview HD tuners. Truly, the Samsung S9 has it all.
Selfridge's spokesman could barely contain himself either:
"This is the first Future Ready UHD TV in the world, the design and the quality of it breaks new boundaries in the world of television. Our customers demand the latest and best technology in their homes, and this is exactly what we're giving them. We want to pioneer the way forward, and Samsung's S9 is exactly what the future is."
He's probably right. But it'll be some time before the general population actually gets to see that future for themselves.