Samsung Electronics will soon be joining the ultra high definition television (UHDTV) movement at last, as it transpired that the Korean TV manufacturer is planning to unveil an 85-inch LED LCD TV with 4K resolution at the Consumer Electronics Show (CES) 2013 in Las Vegas come January.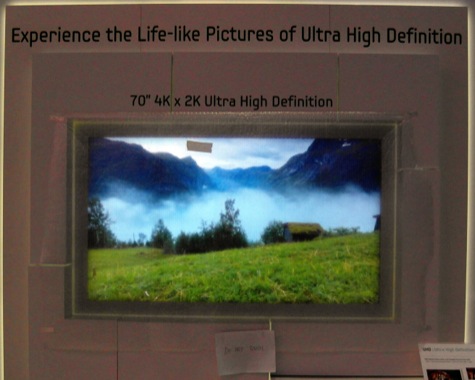 Samsung to unveil 85-inch ultra HD 4K LED TV at CES 2013
For a brand that prides itself on bringing cutting-edge display technologies to consumers, the Seoul-headquartered conglomerate has been surprisingly slow in jumping aboard the ultra HD bandwagon. At the IFA 2012 trade show in Berlin three months ago, Samsung only had a 70-inch 4K TV prototype on exhibit, whilst rivals LG Electronics, Sony and Toshiba were busy promoting and showcasing their respective large-sized UHD TVs.
That will all change at next year's CES which is only two months away. At 85 inches, Samsung's new ultra-high-def television will edge out the 84-inchers offered by LG, Sony and Toshiba, potentially making it the biggest commercialised UHDTV in the world. Its native screen resolution should stand at 3840×2160 pixels, amounting to four times the pixel resolution available on "regular" 1080p HDTV sets.
Samsung claims that its new 85″ UHD television will use an "innovative enhanced dimming technology" to deliver deeper blacks and purer whites. While we hope that the LED backlight technology on the 4K TV will be of the full-array local-dimming variant, it's more likely that the company will implement edge LED with localised dimming (as it has done for the past two years on its high-end models).
Already bestowed a Best of Innovation award, the Samsung 85-inch UHDTV will be unveiled at the firm's CES 2013 press conference at 2pm on Monday the 7th of January. Throughout the event, the ultra high-definition display can also be seen at Samsung's booth #12004 in the Central Hall of the Las Vegas Convention Center.
Source: Samsung USA