In news from South Korea, the Associated Press has reported that six employees of the electronics firm LG have been charged with stealing OLED TV display technology secrets from arch-rival Samsung. According to Samsung's official complaint, the LG workers systematically stole its display technology over a number of months, bribing several Samsung employees in the process.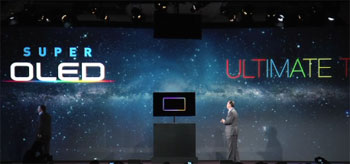 Samsung accuse LG workers of stealing OLED TV technology
In addition to the LG employees, Samsung have accused three of its own personnel, together with two others with the misappropriation of its secrets. The allegations come just one month after it was revealed that unnamed Chinese or possibly Taiwanese TV manufacturers had been accused of stealing OLED TV technology from both LG and Samsung.
LG, which admits that some of its employees may have 'crossed the line', nevertheless strongly denied the accusations made by its cross-town rival. The company moved quickly to defend itself by insisting that Samsung's so-called "secrets" cannot be considered trade secrets at all. According to LG, any 'secrets' its employees may have acquired from its rival are in fact common knowledge to the HDTV industry. The firm also hinted that it may take action to sue Samsung for defamation.
The development follows reports that LG Electronics may be the first TV manufacturer out of the gate, with the release of its new, 55-inch 55EM960V OLED TV pencilled in for sometime this year. Samsung is also believed to be planning the launch of its own OLED 55-incher, although it is expected that their model will not reach consumers until later.
OLED (organic light emitting diode) technology is vastly superior to traditional flat-panel television technologies such as LCD and plasma for a number of reasons. One of the main differences is that OLED screens do not need backlighting, because each pixel acts as its own light source. Therefore, manufacturers are able to build OLED TVs much slimmer than other types, while they can also provide deeper blacks, better contrast, superior viewing angles, and consume far less power than other display technologies.
In addition, OLED also offers far faster response times, allowing it to effectively eliminate latency – this means that the effect of "ghosting" should become a thing of the past. Typical LCD televisions have a response time greater than 20 milliseconds, whereas a similarly-sized OLED TV can reach latencies of less than 0.1 milliseconds.