One of the great things about online shopping websites like Amazon, besides the fact that it's often cheaper than buying from brick-and-mortar stores, is the ability to leave and read reviews about the products you purchase. And that's true no matter if you're buying a gift card for under a dollar, or splashing out $40,000 (around £25,000) on a Samsung 85-inch S9 series of 4K Ultra HD television.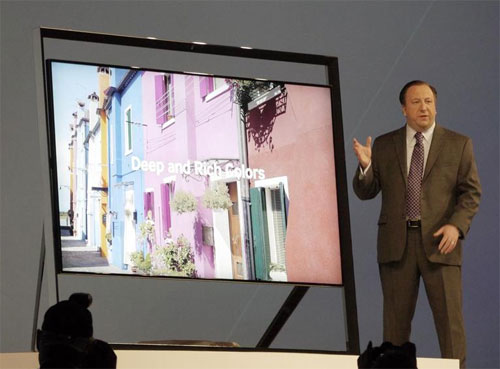 That's right, Amazon USA is offering a whopping $5,000 (roughly £3,000) discount off the regular retail price of Samsung's leviathan flagship ultra high-definition (UHD) TV, just in time for Christmas. Quite a steal right? Well not really, not when it's possible to buy an entire home in some parts of the United States at that price. At least, that's exactly what the 390-odd people claiming to have actually purchased one must feel, judging by some of their hilarious reviews.
One of the main points of ridicule is of course, the enormous price tag, as noted by one Cheryl A. Gustafson:
"Did you see it comes with FREE batteries?": "At first I hesitated to make the purchase, but then I saw the two AA batteries were free with the remote, and I was all in! Having this really fills in that empty space we called a bathroom!"
Meanwhile, P.W. Reader was of the opinion that bigger really is better, and you can't put a price on that:
"When comparing TVs here, I saw Amazon also sells an 84in Toshiba model for just $13K. But I got this one instead, and haven't regretted the purchase, because as a rather insecure male, it's well worth the extra $27K to have that extra inch."
Other reviewers can't seem to get over the gigantic size of the thing, with Travis C. Meidell describing the Samsung 85S9 as "Great for a castle or a countryside mansion." Various other responses affirmed this theory, commenting that it would be ideal for anyone who owns a Death Star or Starship Enterprise.
But by far and away the most 'helpful' review comes from James Thach, whose comments will be particularly encouraging for those contemplating doing anything it takes to get their hands on one such set:
"My wife and I bought this after selling our daughter Amanda into white slavery. We actually got a refurbished. It's missing the remote, but oh well– for $10K off, I can afford a universal, right? The picture is amazing. I've never seen the world with such clarity."

"Amanda, if you're reading this, hang in there, honey! We'll see you in a year."
Not everyone was particularly enamoured with the 85in S9 however. User brian0918 rated the 4K TV a measly one star, complaining bitterly about the lack of RCA plugs:
"I got this thing all unboxed and mounted on the wall of my apartment (had to cover up the door, but I can use the window), only to find out it doesn't even have the video plugs I need. You'd think with the price that they'd come standard. Now how am I supposed to watch my old X-Files tapes?!"
If you still think $39,997.99 is a little steep, you might want to consider buying one of the two used sets Amazon has available, for just $31,499. As for the brand new ones, the internet retailer currently has just two left in stock, but says that that more are coming soon.
Just in case you're still at a loss for stocking fillers.
Source: Amazon.com via CNet senior editor David Katzmaier's tweet.