No doubt with one eye on the upcoming Christmas festivities, Samsung Electronics has just announced a series of new interactive Smart TV applications designed especially for kids.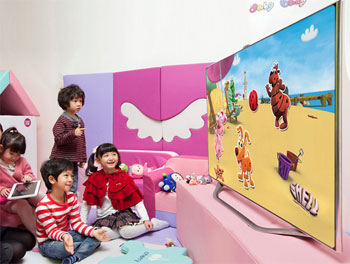 Samsung launches world's first interactive Smart TV apps for kids
The Korean manufacturer's new children entertainment apps allow younger viewers to interact with their Smart TVs in a way that previously, only video games consoles could offer, using technologies such as motion control and virtual mirroring, as well as mobile devices like smartphones and tablets, to provide kids with a fully immersive experience aimed at educating them through entertainment.
The company has launched six kids apps initially, including Best Kids Song, Three Little Pigs, Playing Nado Hutos, Gingerbread Man, and Sticker Theater, which are available to download immediately for all its smart HDTV users. Samsung says that these first apps are just a taster of what's in store, and that parents can expect the number of kid-focused apps to double by Christmas.
One of the apps that's guaranteed to generate excitement is Playing Nado Hutos, which makes the most of Samsung's Smart Interaction technology, allowing children to play the game through gesture and voice controls. Playing Nado Hutos sees kids take the role of Hutos, and control him by moving their hands around in front of the display. Hutos can be made to interact with various objects within the game's environment, performing a series of action that depend on the child's gesture or command. The game is combined with on-demand video, presenting Hutos' story so that kids can develop an emotional bond with him.
While Playing Nado Hutos takes advantage of gesture technology, three of the new apps instead incorporate mobile devices (currently the only compatible one is the Samsung Galaxy Note 10.1, but more will be added in the future) that offer extra functionalities. Gingerbread Man, Three Little Pigs and Sticker Theatre all have mobile versions of the apps downloadable on Google Play or the Samsung Apps store that can be used in conjunction with the Smart TV app. Sticker Theatre may be a hit with older, more creative children, as it gives them the chance to produce their own movies. Kids can set the scene, choose the main characters and then come up with a storyline and record the dialogue using a tablet or smartphone, then the app does all the hard work – crunching it all together to produce a movie that can be saved to the TV's hard drive and viewed via the Smart Hub.
Finally, Kindergarten and Best Kids Song take advantage of one of Samsung's most exciting new technologies – its virtual mirroring service that lets kids immerse themselves like never before. Virtual mirroring involves the Smart television filming players with its front-facing camera, then displaying their movements on the screen in real time. The Kindergarten app incorporates dance as a way of teaching vocabulary, whilst Best Kids Song is more of an entertainment-only app, allowing children to sing and dance to their favourite classic songs.
Source: Samsung Tomorrow