Excitement for CES 2013 is building up to fever pitch, especially where Samsung's latest flagship Smart TV is concerned. There's been tons of speculation about what display technology the new telly might use, and the other revolutionary features it might be packing, but from the latest image we've just seen, it looks like the design of the flat-screen television might also be worth getting excited about.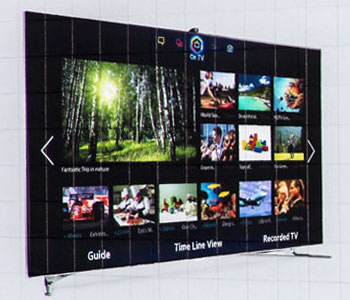 Is Samsung's CES 2013 Smart TV design all about a "ballet feet" stand?
Just hours before it's due to be officially unveiled, we have managed to snatch a glimpse of a large banner outside the Las Vegas Convention Center displaying what we believe must be Samsung's newest Smart TV. From afar, the product looks a lot like the company's current ES8000 series in many ways, with one crucial difference being its rather unique stand: slim and curvy, it doesn't seem to protrude at all, unlike most HDTV pedestal stands.
From what we can tell of the latest image, the new stand appears to have been designed to take up the minimal amount of space possible, with one foot in the right-hand corner having a tiny footprint – resembling that of a ballet dancer's toe, while the other is necessarily wider in order to 'balance' the TV. We can't be totally sure from this single image, but it may also be that the feet could be interchangeable (i.e. the right becomes the wider one, with the left being the ballet toe). Whatever the intricacies, having two small feet at the bottom corners to support the panel does tie in with the shadow in the first teaser image released by Samsung just before New Year, as well as the latest one showing a pair of ballet dancer's feet executing the en pointe stance.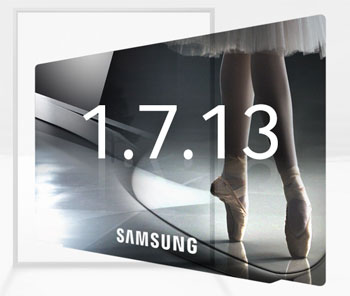 Aside from the "ballet feet" stand, we can also see that the user interface is clearly different – something that is expected given Samsung's earlier announcement about its Smart Hub redesign set to be unveiled at CES.
A couple of other captions on the banner that caught our eye include "S Recommendation", which is the South Korean manufacturer's new content recommendation engine that we can expect to see on not just their new TVs, but also their upper-tier Smart Blu-ray players and home cinema systems. Finally, it's also worth mentioning the "Voice Interaction" feature, which should provide lots of interesting new functionality for Samsung's Smart TV apps. Could it be that the new TV will be able to recommend content and apps based on your own viewing habits? We'll just have to wait and see!