In the build-up to CES 2013, we've seen the two major South Korean TV manufacturers Samsung and LG Electronics employ quite different strategies in their bid to pique consumer curiosity ahead of the big event. LG has opted for the vocal approach, giving away extensive details of what we can expect from them at the show, whilst Samsung has played its cards much closer to its chest.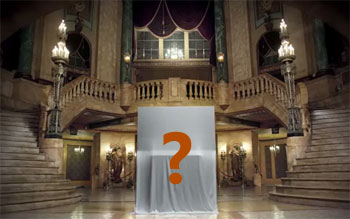 Samsung teases big TV with ultra-thin bezel for CES 2013 launch
This week though, the company gave us a little 'sneak peek' of what to expect with the release of a short teaser video on YouTube, apparently showing their latest innovative Smart TV that will be unveiled in Las Vegas next month.
The video does a good job of generating some buzz, and will no doubt spark a flurry of rumours as to what its latest flagship television might be.
In the video, Samsung uses the novel approach of 'humanising' various HDTVs, showing them breaking out of stores and escaping from their owners' homes in a mad rush to reach a large venue where the company's latest TV is set to be unveiled. The video ends with all the smaller televisions staring at a much larger display, draped in a white veil and presumably about to be revealed for the first time.
As to what might be under that veil, Samsung chose to let that remain a mystery for now. From what we can surmise from the video however, it's undoubtedly one of the biggest telly the Korean brand has ever released; the display device appears to have a super-slim bezel (as revealed when the backlight comes on for a brief second at the end of the video); and it will likely incorporate Samsung's new Smart Hub internet-connected portal, which aims to make accessing content a more user-friendly, intuitive experience.
Most likely, the TV is the rumoured Samsung 110-inch Ultra HD 4K TV, although there is a small chance that the company might surprise us all with something even more innovative, such as a 4K OLED television.
Whatever the mystery TV is, we won't have to wait too long to find out. The CES in Las Vegas kicks off in less than two weeks, with most consumer electronics manufacturers including Samsung holding press conferences on the 7th of January next year.