Samsung is doing a nice job of building up anticipation ahead of CES 2013, teasing fans with yet more tidbits of what they can expect to see next week. Over the last 24 hours, the Korean tech giant posted two mysterious images of what appears to be its new flagship Smart TV on its Facebook page, leading to further speculation about what it might be.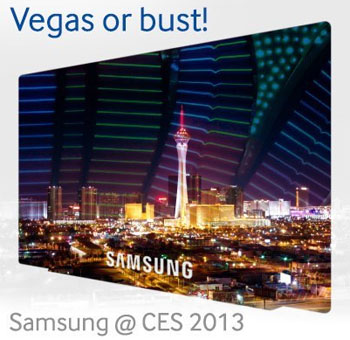 Samsung posts new teaser pics of CES 2013 TV on Facebook
Samsung has given us some big clues already – uploading a video to YouTube and posting an earlier teaser pic which indicate that not only is the new Smart television incredibly big, but also that it has a very slim bezel.
The new pics reveal a few more clues about the nature of Samsung's (supposedly innovative) new design. The first image, which carries a caption of "Vegas or Bust", displays a view of Las Vegas from a TV-shaped hotel window, appearing to suggest a transparent TV, an effect that is emphasised by the reflections of light on the screen. A transparent television would make sense and would be well within Samsung's capabilities, as the firm has previously showed off prototype LCD and OLED displays.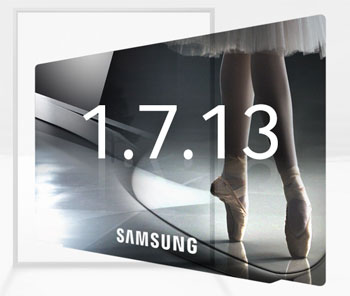 The second image posted today was originally blurred out, requiring us to 'like' it before it was fully revealed. We've posted the image here for the benefit of Samsung-haters who refuse to show their support for them, because it definitely provides some intriguing hints about the new telly's design. The image contains a vertical/portrait silhouette in the background, which has led some analysts to put their guess on a portrait or rotatable screen.
Equally though, since the new TV is depicted to be coming out from the faint vertical silhouette, and given arch-rival LG's own recent enhancements of its Magic Remote, it could also be suggestive of a touch-capable second screen controller that allows seamless switching of content between the controller and the HDTV, in a similar fashion to the Wii U and the Gamepad.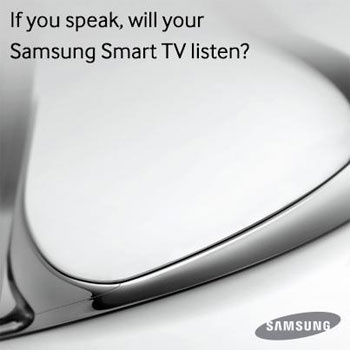 One final clue in the second image is a shape that closely resembles an earlier image posted by Samsung, which could well be a new design for the pedestal stand, no doubt with some kind of Smart TV function (microphone for voice control?) built in.
We're not quite sure what the significance of the ballet dancer is in all of this – perhaps it's a little hint at how lightweight the panel might be, suggesting an OLED TV perhaps? Or maybe it just means that the television will have a nicely 'balanced' price for once? Optimism reigns supreme at HDTVTest. :)
Source: Samsung TV Facebook page